Sweet and spicy General Tso Ramen combines tender chicken, sautéed mushrooms, and bok choy with ramen noodles and a flavor-packed fragrant stir-fry sauce.
Try some of our other instant ramen noodle favorites, like this Ground Beef Ramen, these Egg Roll Noodles, or these Chicken Ramen Noodles.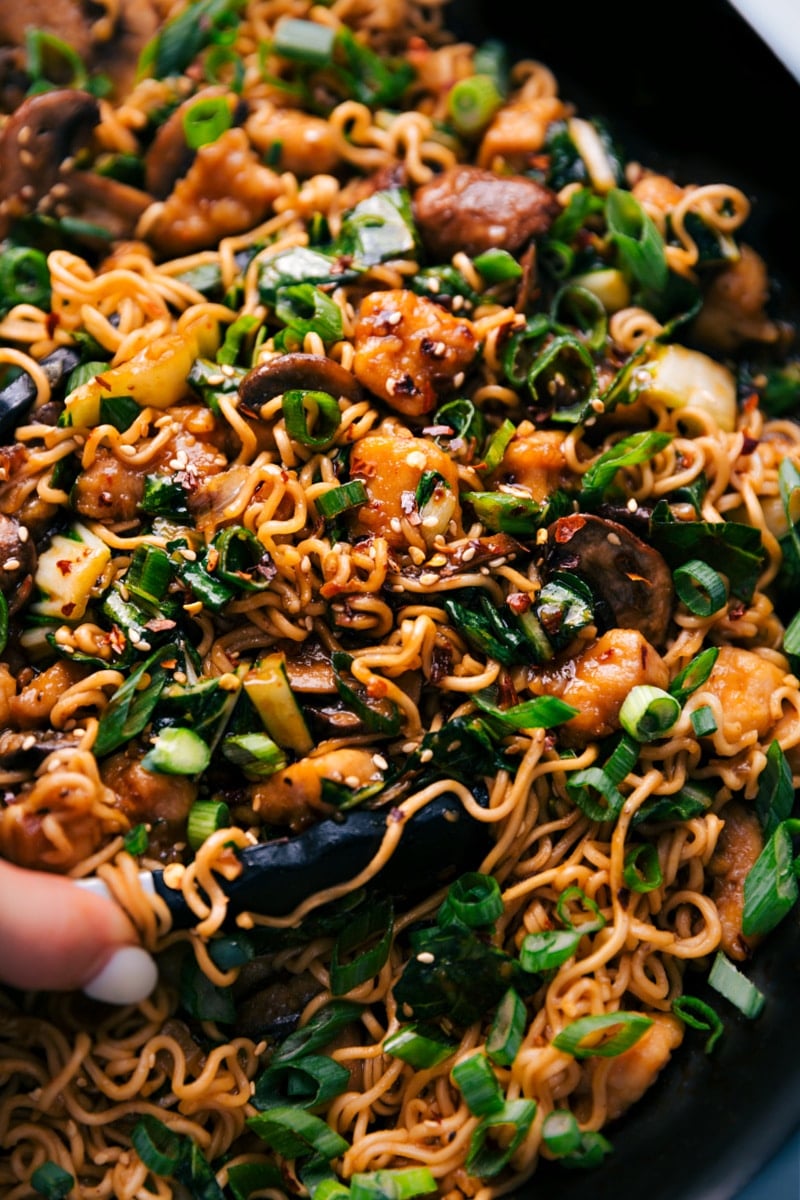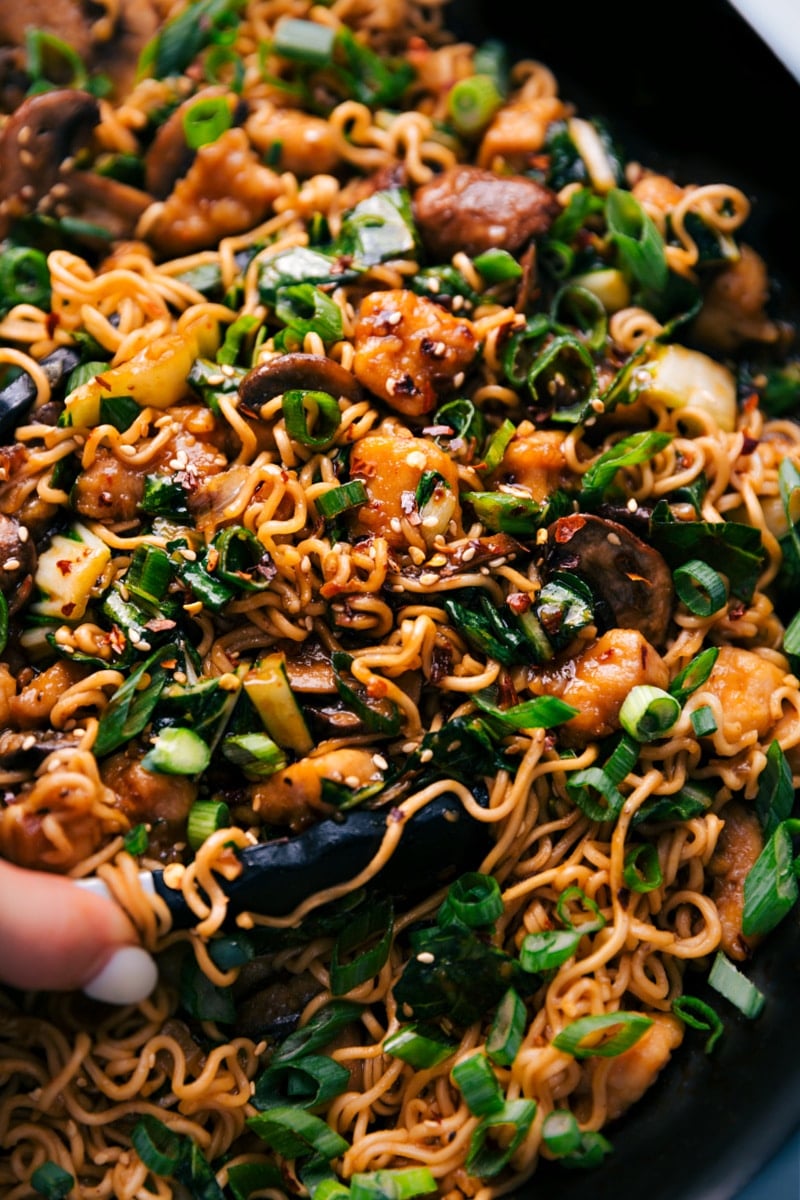 General Tso Ramen
These General Tso Chickpeas are one of my favorite meatless and healthful stir-fry recipes. And luckily, my kiddos love it just as much! So I tweaked the sauce from that recipe a bit and transformed it all into a total comfort food favorite. Instant ramen noodles, tender chicken, sautéed veggies, and a sweet-spicy stir-fry sauce come together in about 30 minutes or less (using some of the shortcut ideas I share in this post) to deliver a total crowd pleaser.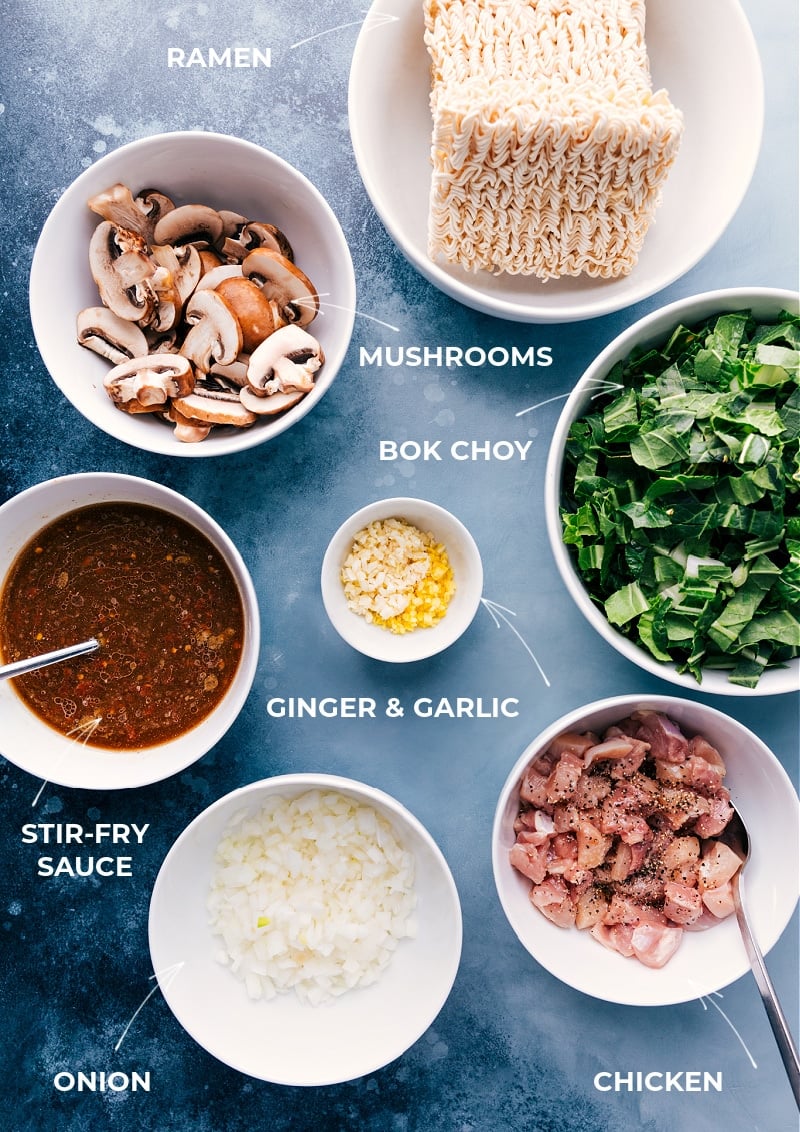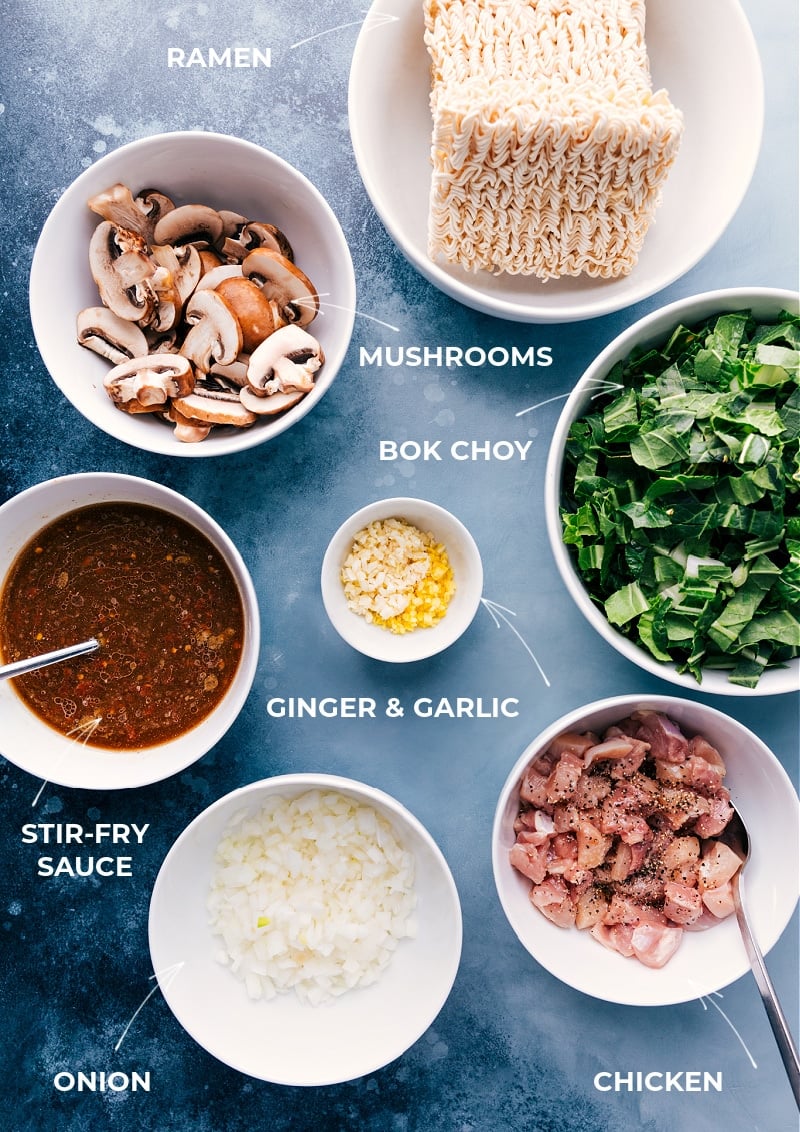 Spice Levels
First things first: General Tso Chicken is known for having a kick and this recipe is no exception. That said, it is easy to scale the spice up or down. Just know that you are reducing some flavor when reducing the spice. 
For the spicy part of General Tso, we're using a chili garlic sauce (see the "quick tip" below). A little goes a long way, so if you're worried about this dish being too spicy, I'd recommend starting with less. You can always add more if you're craving more flavor or spice. If you don't have chili garlic sauce, you can use red pepper flakes; I'd start with 1/2 teaspoon in this recipe. I don't find there to be as much flavor this way, but it will work in a pinch.
If you don't love spicy flavors, I'd recommend starting with just 1 teaspoon of chili sauce for a small amount of heat. With the amount of sugar in this dish, we find one teaspoon still has a slight kick, but it's very manageable. Two teaspoons will give you a medium amount of heat and three teaspoons is a good, hot General Tso spice — it's pretty spicy.
Note that if you do reduce the amount of chili sauce added, you might also want to reduce the sugar. The sugar balances the spice so if you don't add a lot of the chili garlic sauce, you might not want as much sugar.
QUICK TIP
What's the difference between sambal oelek, Sriracha, hot sauce, and chili sauce/paste? Chili garlic sauce is like sambal oelek with a few additions (like vinegar, garlic, sugar, and other seasonings). It's similar to Sriracha, but a bit chunkier, spicier, and less sweet. Read up more on the differences here.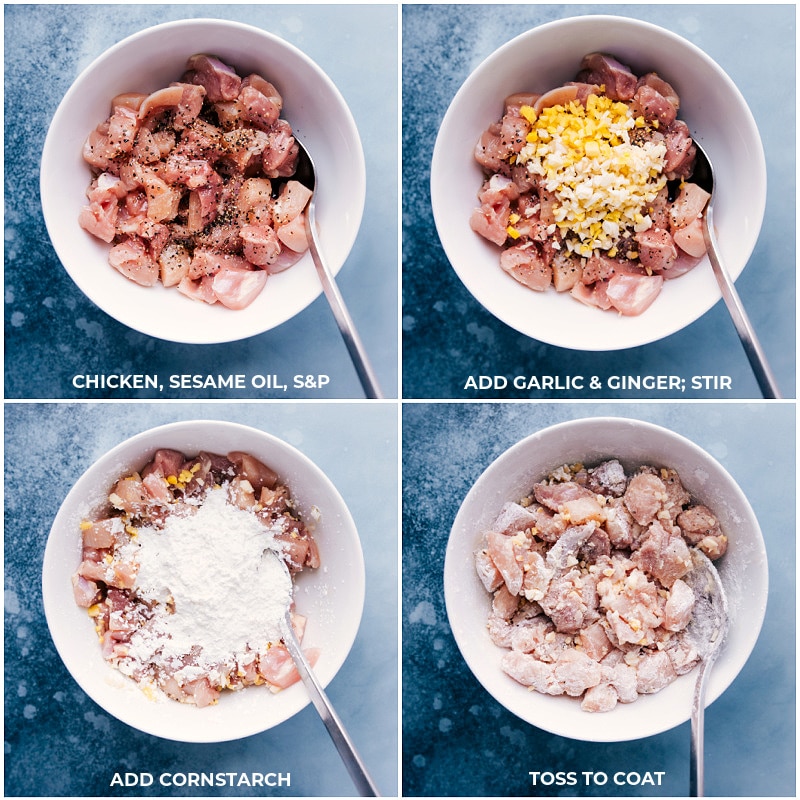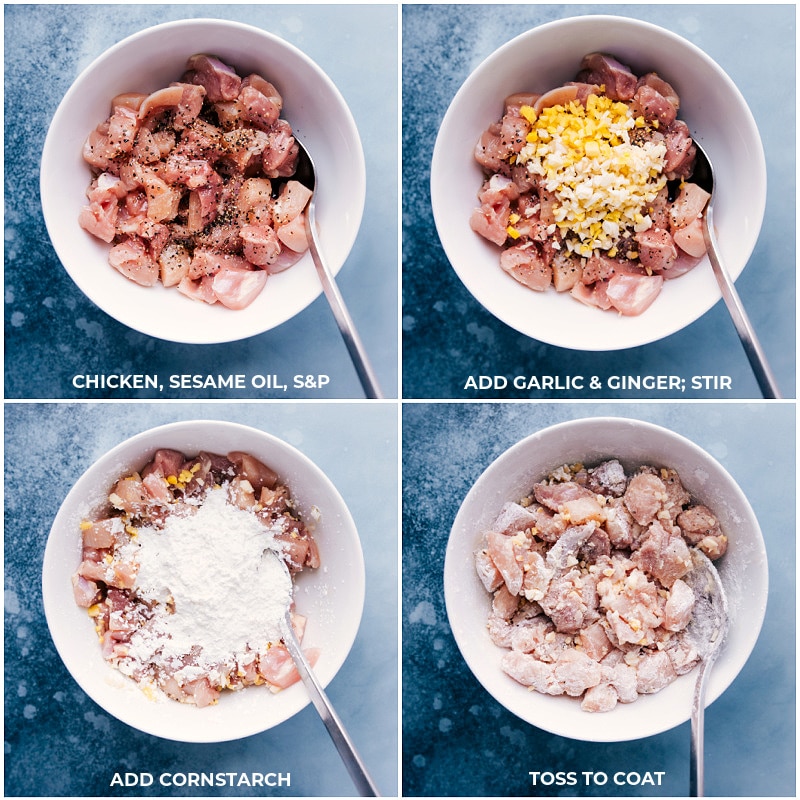 Shortcut Prep Ideas
My whole goal with this recipe is to ensure it's fairly quick to make. Here are some ideas to shorten the prep even more.
Yellow onion: If you're looking for as little chopping as possible, use pre-diced onions or frozen diced onions from the grocery store. You can also use a food processor to quickly chop down an onion. Cook frozen onions just until the water evaporates.
Garlic: Use jarred, minced garlic for quicker prep.
Ginger: Again, speed things along with ginger paste. If you don't have fresh ginger or ginger paste, add 1/2 teaspoon ground ginger instead. (See "quick tip" below)
Sliced mushrooms: Save some cutting time by purchasing pre-sliced mushrooms.
Bok choy: Replace with equal amounts of packaged coleslaw (pre-chopped green cabbage) mix.
Make the sauce ahead of time: This isn't really a shortcut per se, but if you prepare the sauce ahead of time and keep it in the fridge, this General Tso Ramen comes together that much quicker at dinner time.
QUICK TIP
I like to chop my own garlic and ginger for this General Tso Ramen because minced or jarred has a tendency to burn at the high stir-fry temperatures. That said, if you use the garlic/ginger shortcuts, just lower the heat and know the cooking will take a bit longer to avoid burning these aromatics.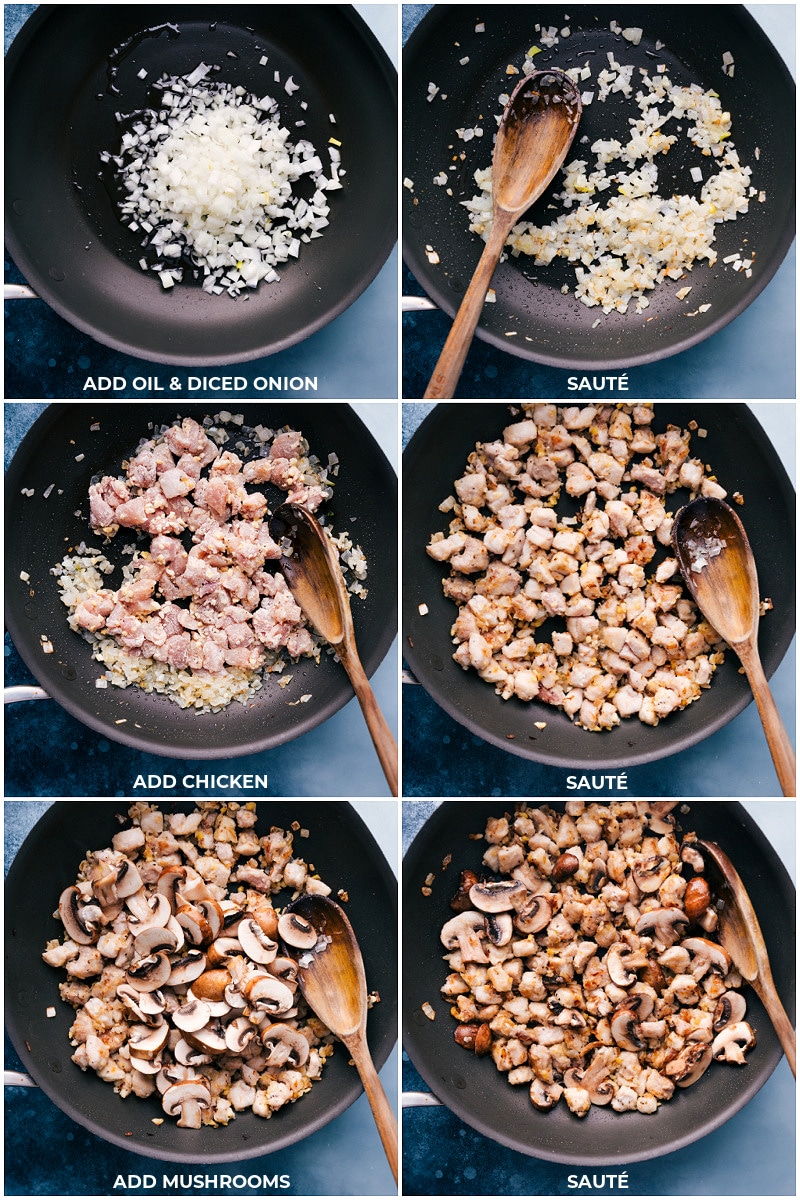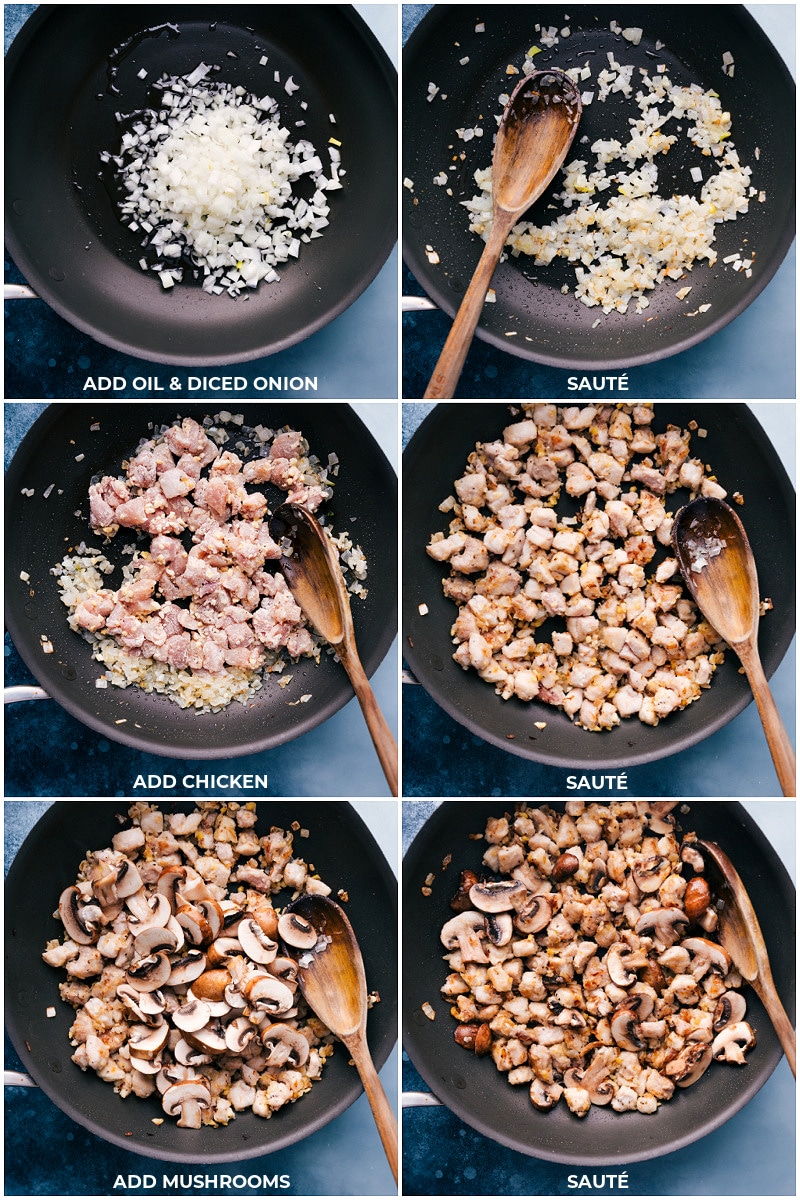 Soy sauce: We like using regular (not lite/low-sodium or dark) in this sauce, which is different from my other ramen recipes. Here we do need the extra saltiness because of the intensity of the other sauce ingredients.
Chicken broth or stock: I still recommend low-sodium because chicken stocks and broths can vary a lot in overall saltiness.
Corn starch: This helps thicken the sauce. Here is a list of substitutes if needed.
Sesame oil: For a great authentic flavor, sesame oil really delivers! (This oil is typically found with the Asian ingredients area, rather than with the other oils in the grocery store.) We love the flavor of toasted sesame oil best! 
Rice vinegar: This balances the sauce and adds a subtle tang. If you see a label saying rice wine vinegar, it's the same thing.
Chili paste: This is the exact sauce I use in this recipe; I like it because it's readily available at regular grocery stores. (You shouldn't need a stop at a specialty shop!) It packs a wallop — a little goes a long way! It adds that classic spicy heat in General Tso and we love the flavor.
Brown sugar: Brown sugar adds in some sweetness and balances the spiciness a bit. Feel free to play around with this addition– less for a spicier and more for a milder/sweeter dish.
Hoisin sauce: This is a thick and fragrant sauce with a sweet, taste; it's another "secret" to the amazing flavor in this dish. Just think of it as an Asian BBQ sauce– a little goes a long way!
Ground white pepper: Ground white pepper is a common spice, found among other spices in the grocery store. Black pepper can be used in a pinch, but there is definitely less of a restaurant-quality feel.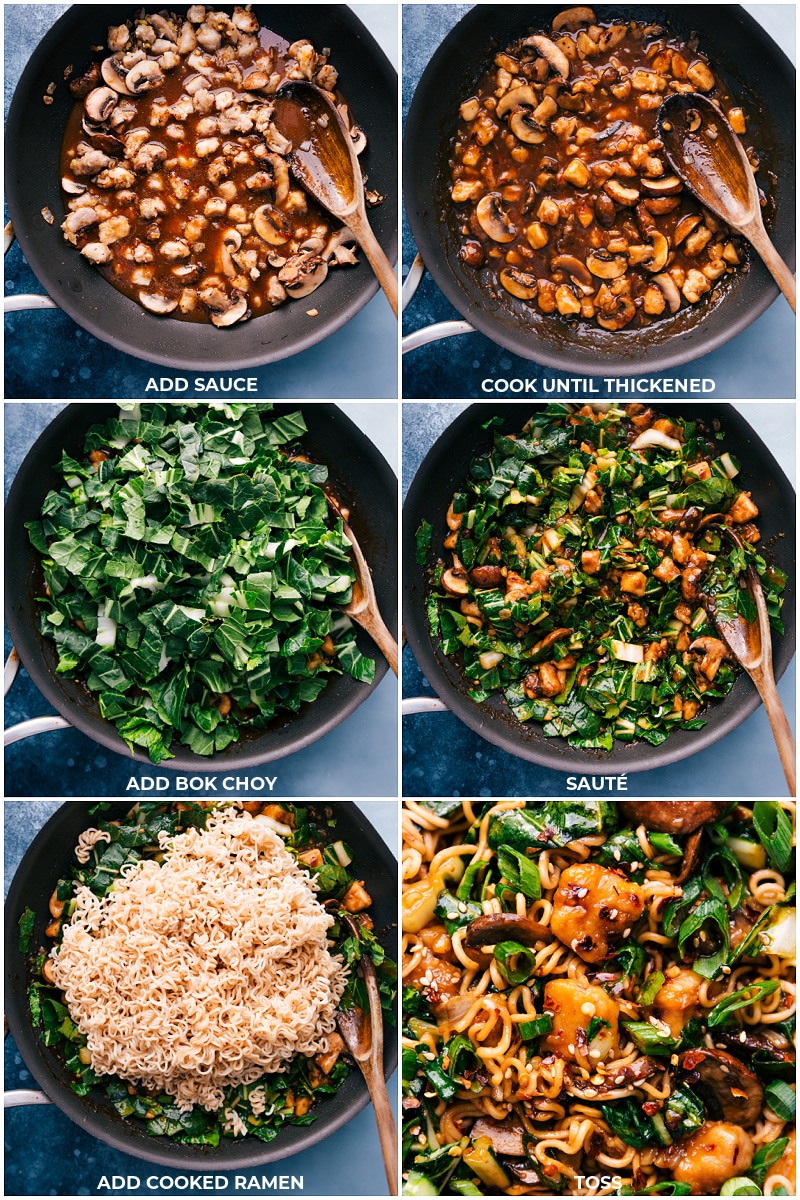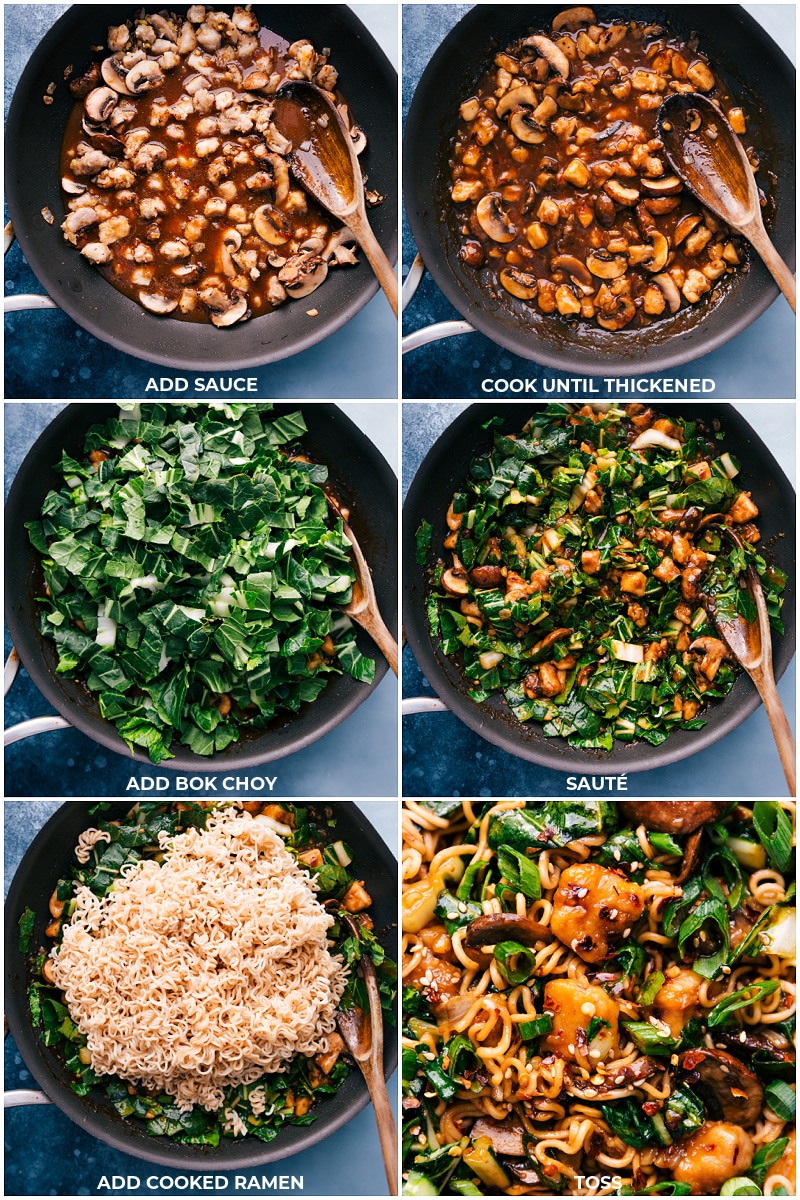 General Tso Ramen Garnishes
This ramen is delicious right out of the skillet, but it's always better with a few garnishes. Add as many or few as you'd like; green onions are our "must-have" garnish.
Sesame oil is a finishing oil that is great to drizzle on at the end. Even though there is some in the sauce, we occasionally like to add a little to individual dishes as well.
Red pepper flakes add additional heat to individual plates for those that like things a bit spicier.
Green onions add a bright, crisp, and fresh aspect to this General Tso Ramen.
Toasted sesame seeds add a subtly sweet taste and aroma with a nutty flavor.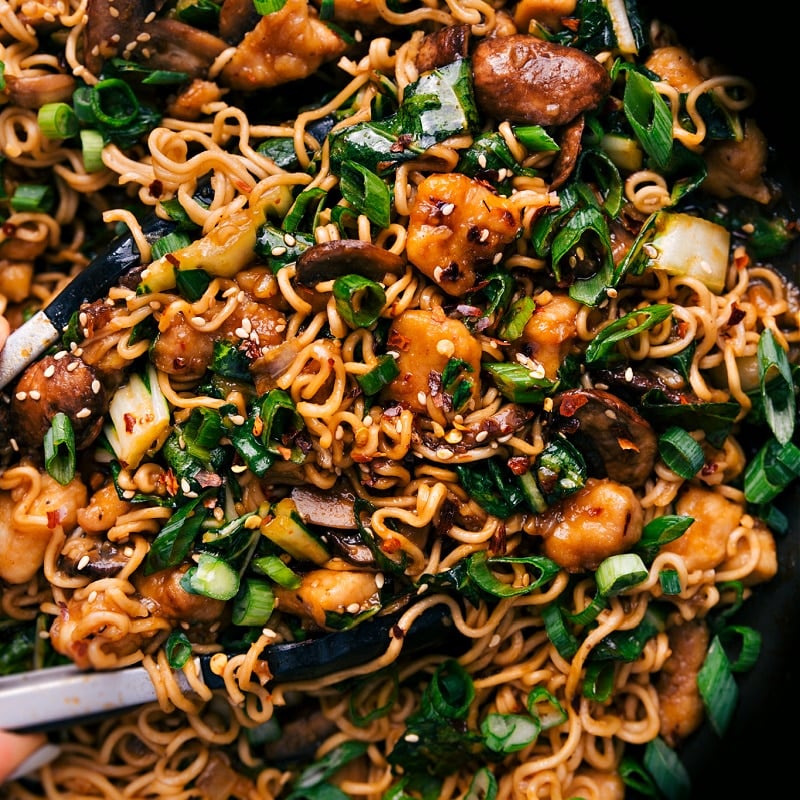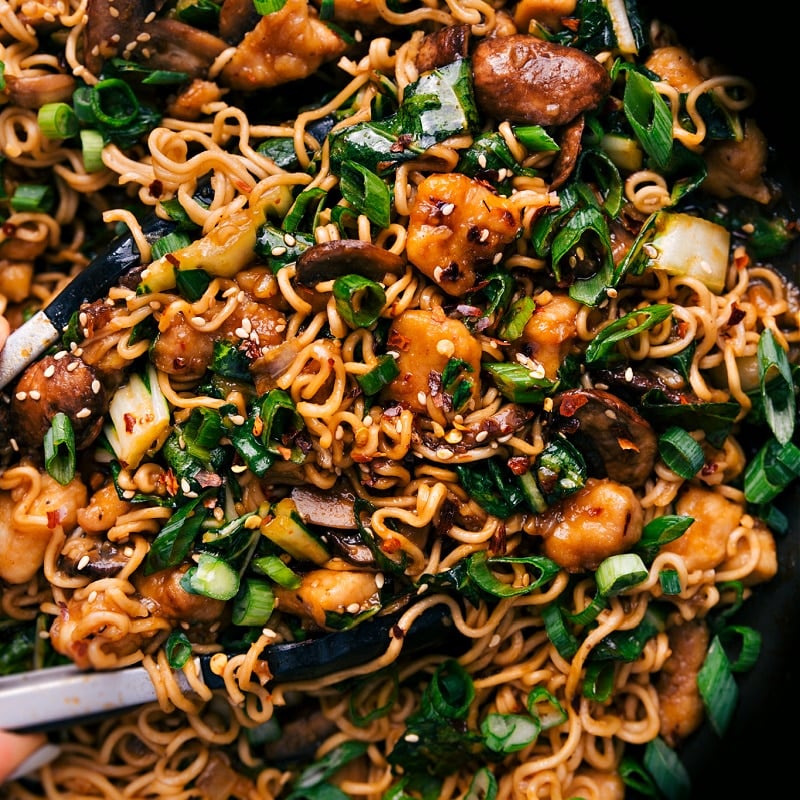 General Tso Ramen Tips
Let's chat bok choy: There is a good amount of bok choy in this recipe, but it cooks down very quickly and integrates nicely in the ramen. If you're unfamiliar with bok choy, you can read more about it here. Regular or napa cabbage can be used instead if desired. Not a cabbage or bok choy fan? Use four cups of finely diced broccoli florets instead. Add the diced broccoli with the instant ramen to boil for about 90 seconds and then add to the stir-fry along with the drained ramen noodles.
Any brand of instant ramen noodle works, but make sure to get the right amount — 9 ounces is perfect for this recipe. Discard the seasoning packets (or save for another recipe) and just use the noodles. Otherwise, the dish will be overly salty and the flavor will be off.  Make sure the ramen you use is instant–traditional wheat ramen takes a lot longer to cook. If you buy the cup-a-soup type, you'll be sure you're getting the instant type. You can also use chow mein noodles instead of ramen if desired.
Taste and season. It's difficult to give an exact amount of salt for this recipe since there is so much variation in the sauce products. I err on the side of adding less salt throughout this cooking process since you can add at the end, but you can't take it away. There are small amounts of salt added to the sauce and chicken, but since the ramen noodles aren't salted, you still may need additional salt at the end. If the flavors don't sing, it may be as simple as adding an extra pinch (or two) of salt.
Similar recipes to love
General Tso Ramen
This sweet and spicy General Tso Ramen combines tender chicken, sautéed mushrooms, and bok choy with ramen noodles and a flavor-packed fragrant stir-fry sauce.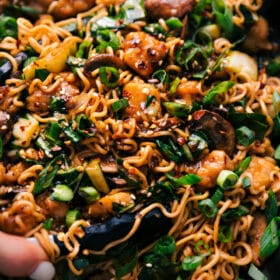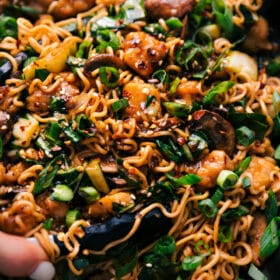 General Tso Ramen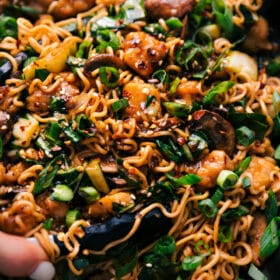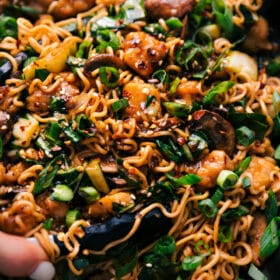 This sweet and spicy General Tso Ramen combines tender chicken, sautéed mushrooms, and bok choy with ramen noodles and a flavor-packed fragrant stir-fry sauce.
Ingredients
Sauce/Chicken Marinade:
3

tablespoons

all-purpose soy sauce

(not lite or dark)

3

tablespoons

hoisin sauce

1

tablespoon

cornstarch

1

tablespoon

rice vinegar

1

teaspoon

chili garlic paste

up to 3 teaspoons Note 1

1/4

cup (34g)

light brown sugar

Note 2

3/4

cup (155g)

low sodium chicken broth

1

tablespoon

toasted sesame oil

1/4

teaspoon EACH:

white pepper and fine sea salt
Chicken:
3/4

pound (12 oz; 340g)

chicken thighs or chicken tenders,

cut into 1/2-inch pieces (measure AFTER being trimmed of fat)

1

tablespoon

toasted sesame oil

1

tablespoon EACH:

ginger and garlic

1/4

cup (33g)

cornstarch

1/4

teaspoon EACH

fine sea salt and pepper
Stir-Fry:
2

tablespoons

vegetable oil

1

cup (125g)

diced yellow onion

3

packets (3 oz; 85g EACH)

ramen (instant) noodles

2

cups (125g)

thinly sliced mushrooms

5

cups (202g)

thinly sliced bok choy leaves

(~1 large bok choy)

Optional Garnish: Finely sliced green onion, red pepper flakes, additional toasted sesame oil, toasted sesame seeds
Instructions
SAUCE: In a small bowl, whisk together the cornstarch and soy sauce until smooth. Once smooth, add remaining sauce ingredients (See Notes 1 & 2 first). Mix and set aside.

PREP: Start by prepping all the veggies and chicken — cooking goes so fast, so everything needs to be ready to use! Dice the chicken into small bite-sized pieces. Dice the ginger, garlic, yellow onion, and mushrooms, and thinly slice the bok choy (see Note 3). I know it seems like a lot but it cooks down!

CHICKEN: In a medium-sized bowl, add the diced chicken, a tablespoon of sesame oil, ginger, and garlic. Add salt and pepper to taste. (I add 1/4 teaspoon of each.) Toss to combine and then add in the cornstarch. Mix until all pieces of chicken are coated in the cornstarch. Once all the chicken and veggies are prepped, bring a large pot of water to boil.

COOK: Heat a wok or large, deep sauté pan (12 inches minimum) over high heat. Add 2 tablespoons of vegetable oil and swirl to coat. Once the oil is shimmering, add in the onion. Cook for 4-5 minutes, stirring often. Press the onion to the edges of the pan and add all the chicken mixture to the center. Cook, stirring frequently until just browned on the outside (chicken doesn't need to be cooked through), about 4 minutes. Add in the mushrooms and sauté for another 2 minutes. Finally, add in the sauce and cook until just thickened (a wooden spoon can draw a track through it), about 1-2 minutes. Reduce the heat to low and add in all the bok choy. Cook, stirring gently, for 30 seconds to wilt down the bok choy leaves.

RAMEN: While chicken is cooking, prepare the ramen. Open ramen packages and discard seasoning packets. Follow the package directions to cook the ramen noodles (don't add any salt to the pasta water), cooking in boiling water for 1 minute and 30 seconds less than the package directs (so for 3-minute ramen, cook for 90 seconds). Drain noodles and add right on top of the stir-fry (see next step).

FINISH: Add the drained ramen right to the skillet and toss with tongs to coat the noodles and fully wilt the bok choy. Taste and adjust for salt/pepper — flavors should sing. Garnish with sesame seeds and green onions if desired. Add a drizzle of sesame oil and/or red pepper flakes for more heat to individual bowls. Enjoy hot!
Recipe Notes
Note 1: General Tso is meant to be spicy! But if you don't love spicy foods, you can still enjoy this meal. I'd start with just 1 teaspoon of the chili sauce for a tiny bit of heat, 2 teaspoons for medium, and 3 teaspoons is a good General Tso spice. Depending on how much chili sauce is added, you might want to reduce the sugar. The sugar balances the spice so if you don't add a lot of the chili garlic sauce, you might not want as much sugar. 
Note 2: When measuring, this is a very loose measurement — don't pack the brown sugar in the measuring cup. This is the amount of sugar we like for 2-3 teaspoons of the chili garlic sauce (and I usually add some red pepper flakes to individual serving bowls). If you aren't adding as much spice or simply like things less sweet, slowly add brown sugar until you reach your preferred taste.
Note 3: In this recipe,

we're just using the bok choy greens; use leftover stems in

another recipe

). Wash the bok choy and add to a salad spinner to thoroughly dry or pat dry with paper towels.
Nutrition Facts
Calories: 479kcal | Carbohydrates: 53g | Protein: 28g | Fat: 19g | Saturated Fat: 8g | Trans Fat: 1g | Cholesterol: 81mg | Sodium: 1259mg | Potassium: 1528mg | Fiber: 6g | Sugar: 26g | Vitamin A: 13240IU | Vitamin C: 140mg | Calcium: 358mg | Iron: 5mg
We do our best to provide accurate nutritional analysis for our recipes. Our nutritional data is calculated using a third-party algorithm and may vary, based on individual cooking styles, measurements, and ingredient sizes. Please use this information for comparison purposes and consult a health professional for nutrition guidance as needed.