These Air Fryer Sweet Potato and Black Bean Egg Rolls are loaded with flavor and texture — tender sweet potatoes, savory black beans, and other taco-spiced veggies. Dip or drizzle a spiced chili-lime sauce over these egg rolls and be prepared for a new dinner addiction!
 Sweet Potato and Black Bean Egg Rolls
I'm sure you're not too surprised to see one of my favorite combos showing up in egg rolls — sweet potatoes and black beans are frequent visitors in the recipes I share.  Some of my favorites include these Vegetarian Tacos, these Sweet Potato Enchiladas, these Sweet Potato Burrito Bowls, or this Mexican Quinoa.
And today we're combining this power couple in Air Fryer Egg Rolls! We're loading them up with all kinds of veggies and dunking them in the most addictive chili-lime sauce. And one of the best things about these egg rolls? We make one seasoning blend and use it two different ways — part of it seasons the egg roll filling while another part seasons the sauce! More on the seasoning blend below.
Seasonings
The seasonings in these rolls are adapted from these practically famous Roasted Sweet Potatoes. A few notes on the seasonings:
Chili (not to be confused with chilli powder) powders can vary greatly in heat; we use McCormick® which is mild. 
We typically use normal paprika in these egg rolls, but if you'd like a smokier, more intense flavor, use smoked paprika.
It's easy to go on autopilot and add all the seasonings to the filling mixture, but be sure to set aside a little bit which will go in the chili-lime sauce.

QUICK TIP

Chili or chilli? Many times chili is spelled both ways, but there is actually a big difference. Chilli (with two l's) powder refers to unadulterated ground chilies. This is similar to American cayenne powder. Chili powder (with only one l) is ground chili peppers plus additional spices –cumin, garlic, onion, and others–and is ready to add to a pot of chili. And now you know!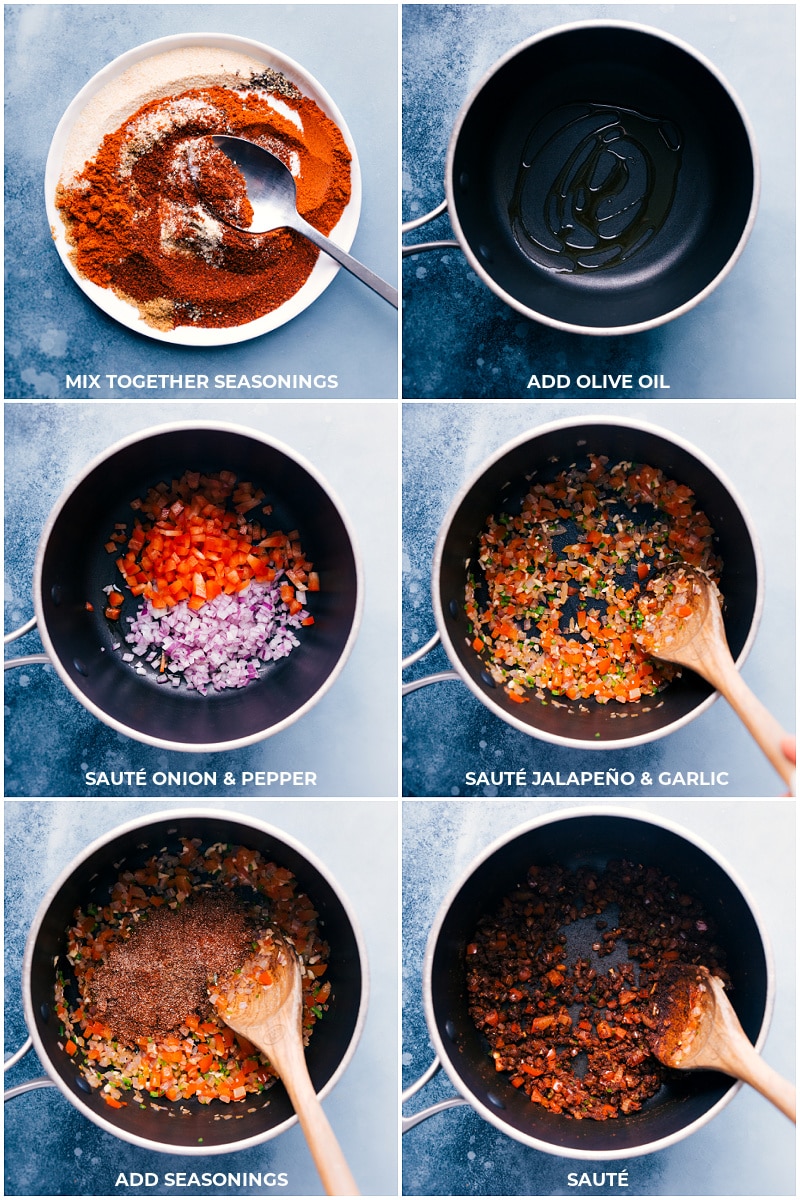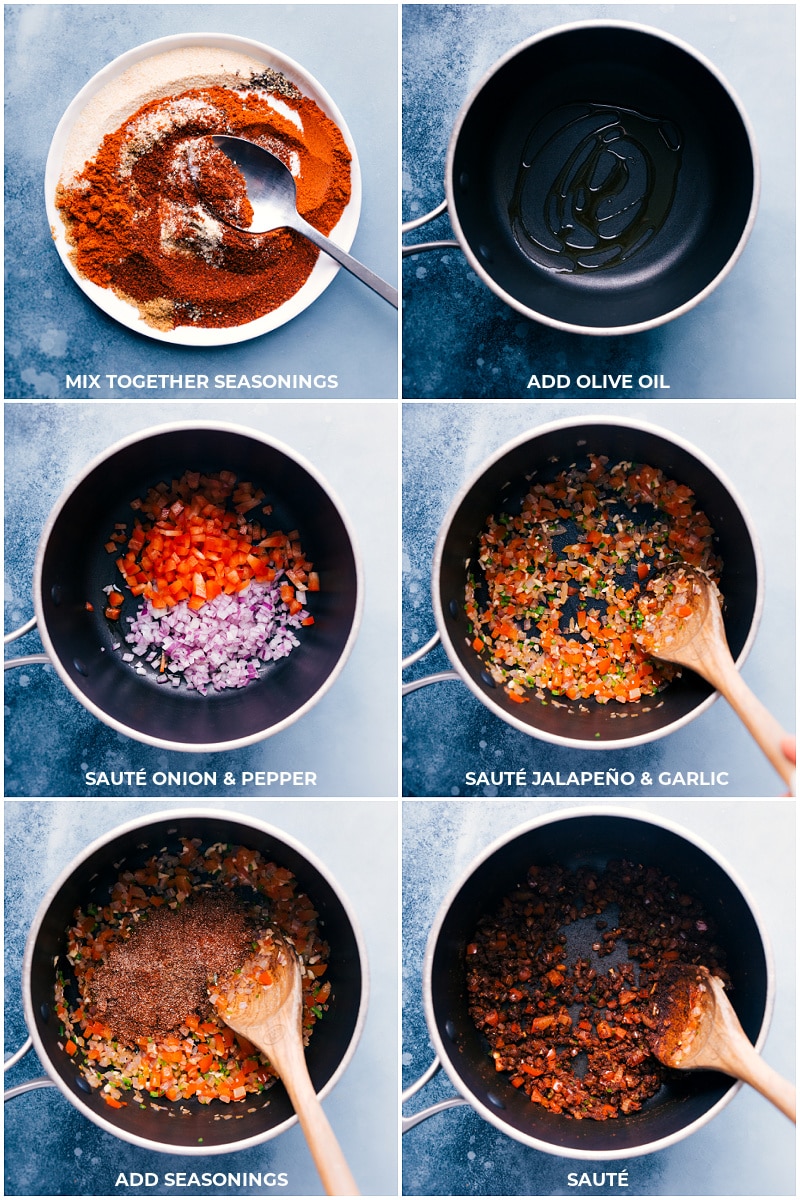 Air Fryer Sweet Potato and Black Bean Egg Roll Filling
The two main ingredients in these Black Bean Egg Rolls are sweet potatoes and black beans; more on each below.
Sweet potatoes
Typically, sweet potatoes take quite a bit of time to cook until tender and they're hard to chop when they're unbaked. So we use a shortcut here — the microwave oven. It totally works, and the texture is still fantastic; microwaved sweet potatoes have tender flesh and soft skins that peel off in a cinch.
The only prep you have to do is poke a few small holes in the potato to provide a place for the steam to escape. Use a fork to pierce the potato a few times.
An 8-ounce (1/2 pound) sweet potato takes about 5 minutes to cook on 100% power. Larger sweet potatoes will take longer, and when cooking multiple potatoes at the same time, it will take even longer. Continue to microwave the potatoes in 1-minute bursts until the potatoes are cooked through.
You'll know the potatoes are ready when they are easily pierced in the center with a fork.
QUICK TIP
If you're not microwaving the potatoes, I'd recommend cooking the potatoes according to this Baked Sweet Potatoes recipe first. Once tender, the peels pull off super easily, and then you'll very finely dice the potatoes. Any overly large pieces will be a bit overwhelming in these Air Fryer Sweet Potato and Black Bean Egg Rolls.
Black beans
The other main ingredient in the filling of these egg rolls is black beans.
If you happen to have some leftovers from these from-scratch Black Beans, they'd be absolutely delightful in these egg rolls! But if you don't have any, canned black beans work great here. Be sure to thoroughly rinse and drain the black beans. You'll also want to make sure they're dried off from being rinsed so they don't water down the filling. A salad spinner comes in handy here!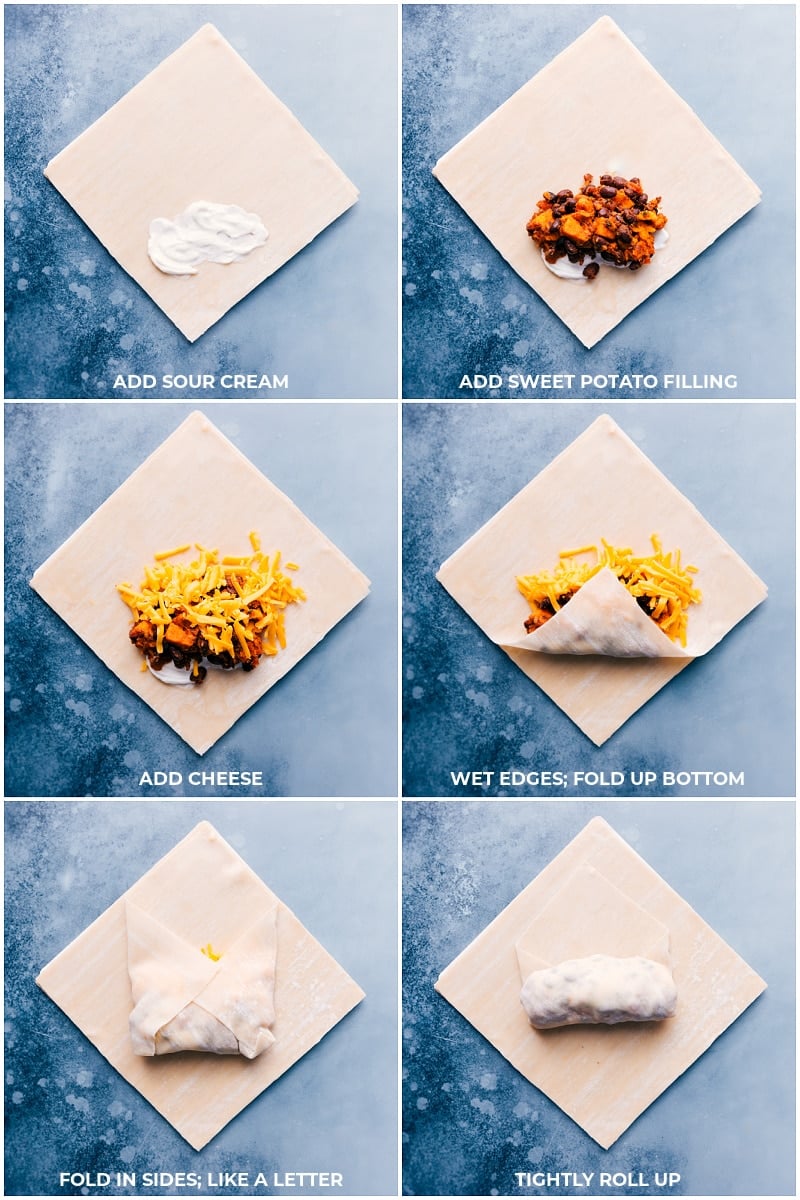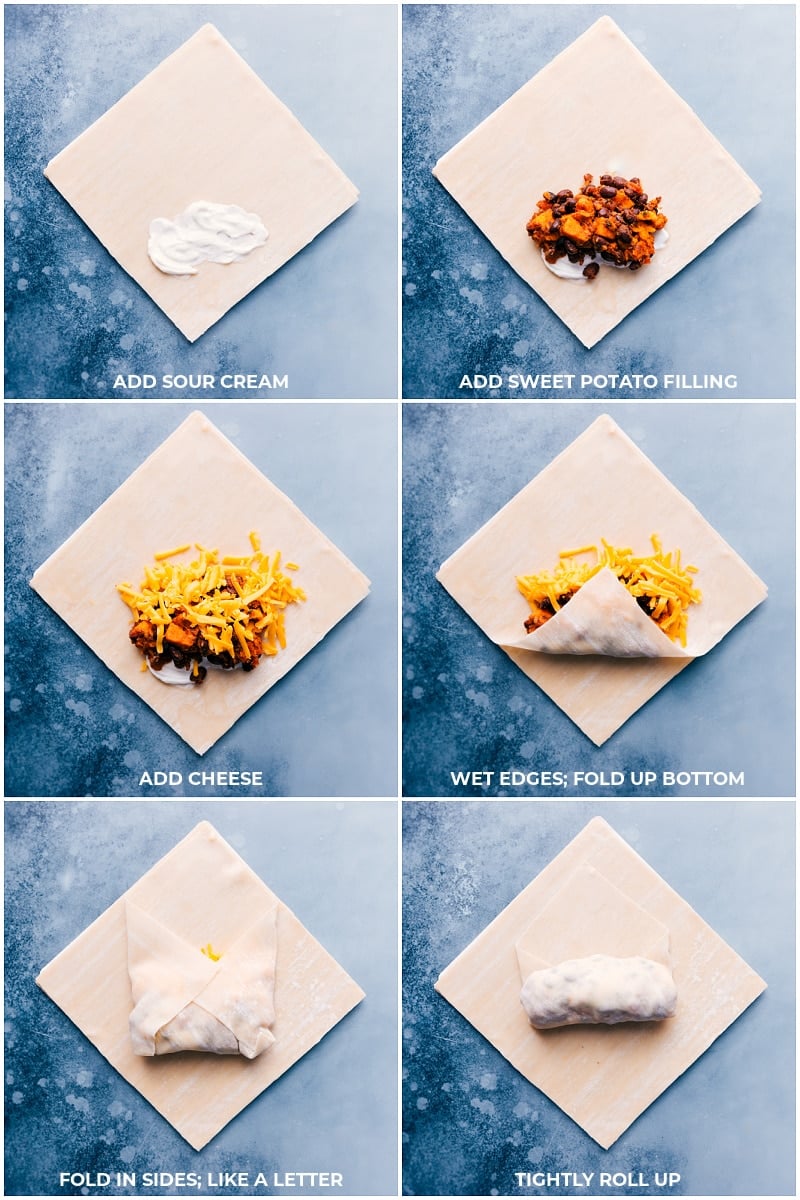 Air Fryer Sweet Potato and Black Bean Egg Roll Tips
Keep the egg roll wrappers tightly covered right up until using them. They dry out quickly and will crack and crumble if they're left out of the packaging too long.
We use light or fat-free sour cream. It's a great way to save some calories and fat while still getting that great flavor and creaminess. Of course, regular sour cream works well too!
Don't overcrowd the air fryer. Place the egg rolls in so they have a bit of space in between — don't overlap or layer them for ultimate crispiness.
The sauce improves when made ahead of time. Whisk it together and refrigerate in an air-tight container until ready to use. The sauce will stay good for 5-7 days when stored properly in an airtight container (or Mason jar) in the fridge.
Don't Have An Air Fryer?
Deep fry instead. These Black Bean Egg Rolls can be deep fried instead of air fried. Heat a pan with about an inch of canola or vegetable oil. Once the oil reaches 325 degrees F, add 3-4 egg rolls at a time. Rotate to evenly brown (~2 minutes per side) and once they are browned all over, remove them to a cooling rack (with a paper towel placed underneath). 
Bake instead. Spray all sides of the egg rolls with cooking spray. Bake at 425 degrees F for 10-15 minutes, flipping at the halfway point, or until lightly browned. They don't get super-crispy when baked.
Make them into a quesadilla or burrito instead. Fill up large tortillas with the fillings and roll them up tightly (or form them into a quesadilla). Heat a large griddle or nonstick skillet to medium heat. Once hot, spray all sides of the wraps with cooking spray and place seam-side-down into the pan or griddle. Cook until golden brown and crisp, about 2-4 minutes. Flip with tongs and cook for another 2-4 minutes or until golden and crisp. The filling should be hot and cheese melted. Serve with sauce and any other desired toppings.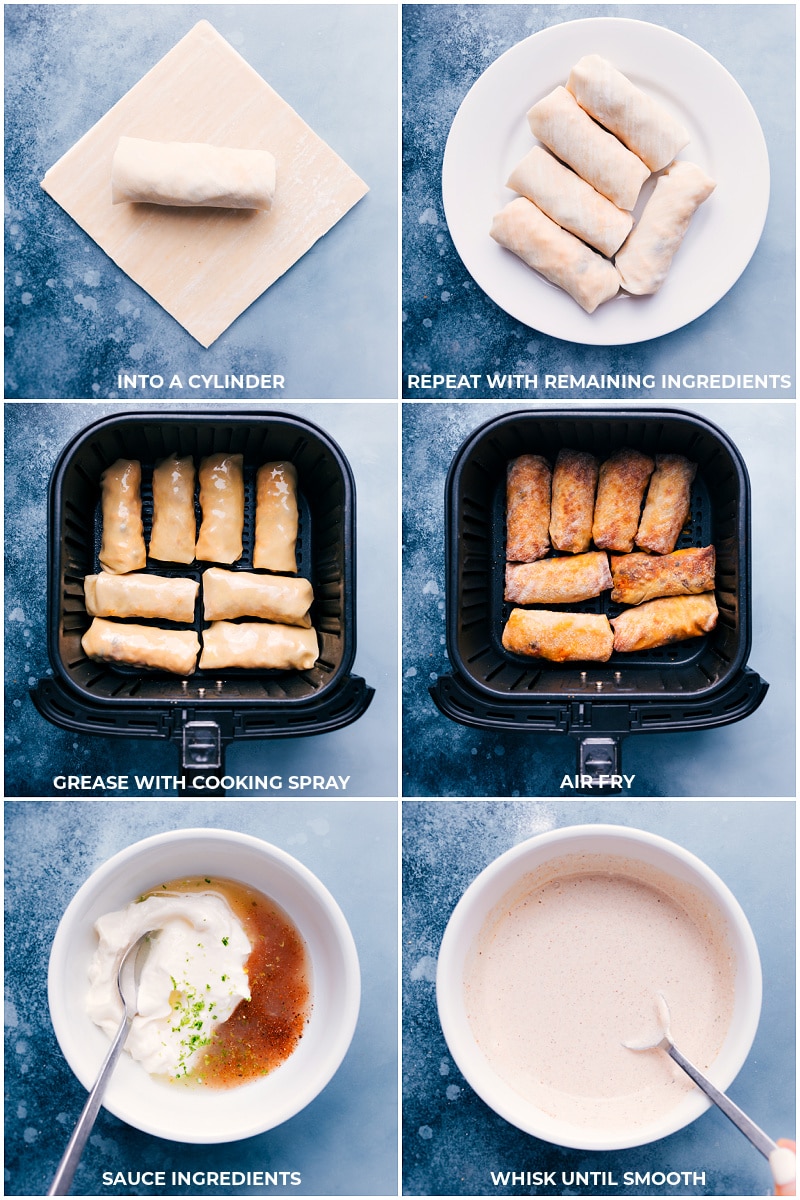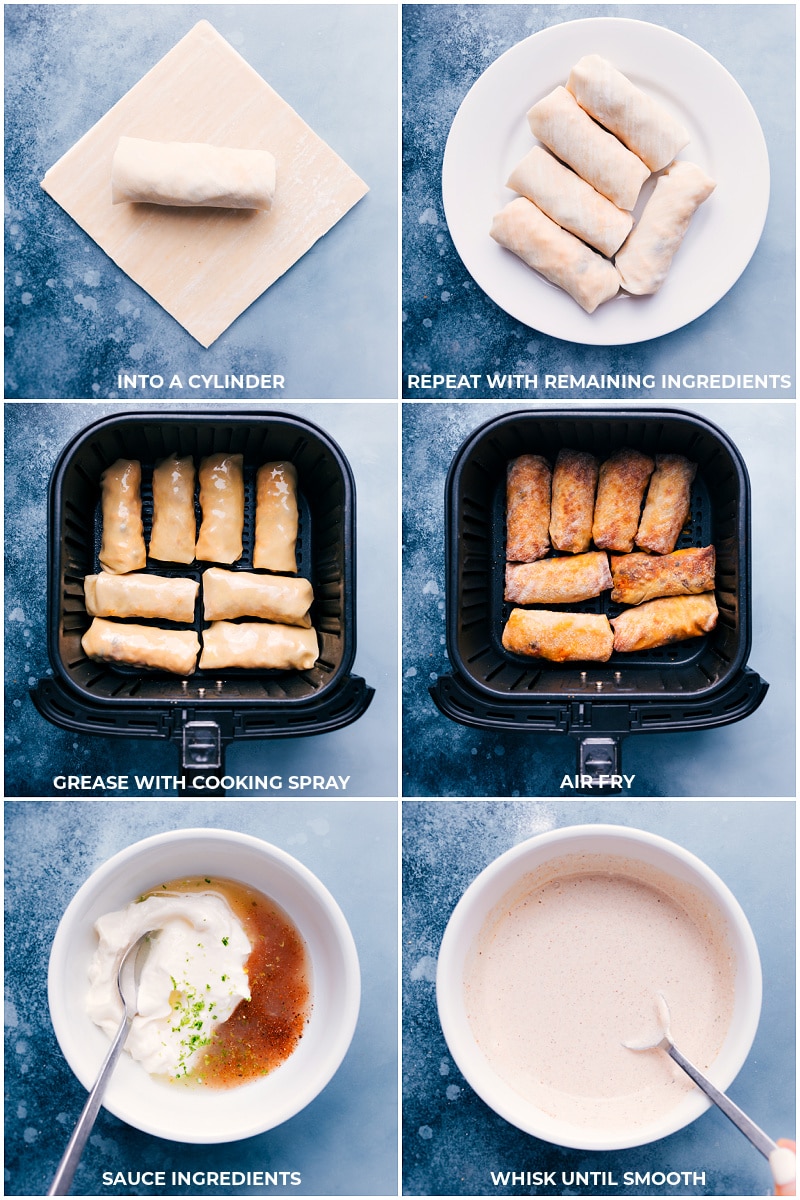 Chili-Lime Sauce
This sauce is easy! We've already assembled the seasonings from the Black Bean Egg Roll filling mixture and just have to whisk those with a few ingredients and it's ready to go. No blender needed! Below are a few quick tips:
We love Hellman's/Best Foods® mayonnaise best in this sauce. It has a robust flavor without being too sweet.
As for spiciness, I'd rate the dressing to be very slightly spicy. If you'd like to make it milder, reduce or omit the hot sauce and be sure to use McCormick® seasonings. (We find them very mild.) Keep in mind that reducing or omitting spice will reduce the overall flavor of the sauce.

Alternatively, amp up the heat by adding in 1/8 teaspoon cayenne pepper.

The sauce calls for lime juice and zest. If you use citrus a lot when cooking/baking, having a good citrus juicer and microplane is invaluable!
More Air Fryer Recipes
Air Fryer Sweet Potato and Black Bean Egg Rolls
These Air Fryer Sweet Potato and Black Bean Egg Rolls are loaded with flavor and texture — tender sweet potatoes, savory black beans, and other taco-spiced veggies. Dip or drizzle a spiced chili-lime sauce over these egg rolls and be prepared for a new dinner addiction!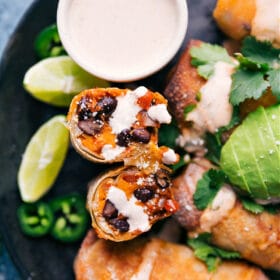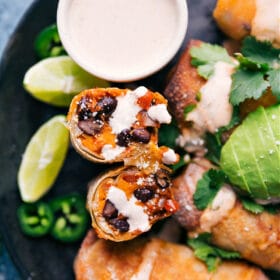 Air Fryer Sweet Potato and Black Bean Egg Rolls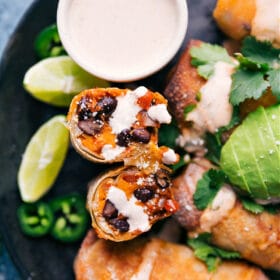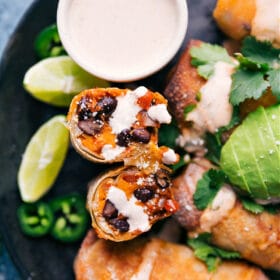 These Air Fryer Sweet Potato and Black Bean Egg Rolls are loaded with flavor and texture — tender sweet potatoes, savory black beans, and other taco-spiced veggies. Dip or drizzle a spiced chili-lime sauce over these egg rolls and be prepared for a new dinner addiction!
Ingredients
2

cups (300g)

diced cooked sweet potatoes

(~1-1/4 pounds)

1

tablespoon

extra-virgin olive oil

1/2

cup (75g)

diced red pepper

(1/2 pepper)

1/2

cup (70g)

diced yellow onion

(1/2 onion)

1

tablespoon EACH:

diced jalapeño, minced garlic

1-1/4

teaspoon EACH:

ground cumin, garlic powder, onion powder

2-1/4

teaspoon

paprika

1

tablespoon + 1 teaspoon

ground chili powder

1/2

teaspoon

fine sea salt and 1/4 teaspoon pepper

1

can (15.25 oz.)

black beans,

drained and rinsed. Note 1

1

tablespoon

freshly squeezed lime juice

2

cups

Cheddar cheese

extra-sharp or sharp

10

teaspoons

sour cream

(lite or fat-free is great)

11-13

refrigerated egg roll wrappers and water to seal the edges

Olive oil cooking spray

Optional: fresh avocados, thinly sliced
Sauce
1/2

cup (110g)

mayo

(we love Hellman's/Best Foods)

3

tablespoons

freshly squeezed lime juice & 1/4 teaspoon lime zest

1

teaspoon

hot sauce,

optional
Instructions
SWEET POTATO PREP: Wash and scrub the sweet potato(es). Pierce several times with the tines of a fork. Add to a microwave-safe plate and microwave until fork-tender, about 5-8 minutes, rotating halfway through. Remove from the microwave and cut in half lengthwise. Set aside to cool slightly and then peel off the skins (they should come off easily). Once cool enough to handle, dice into very small pieces and set aside.

PREP: For quicker prep, chop the pepper, onion, jalapeño, and garlic in a food processor. Alternatively, finely chop all these ingredients. Drain and rinse the beans. In a small bowl, whisk together all the seasonings. Add salt & pepper to taste. (I add 1/2 teaspoon fine sea salt and 1/4 teaspoon pepper.)

SAUCE: Remove 1-1/4 teaspoon of the spice blend and add to a bowl along with the remaining sauce ingredients and an extra pinch of salt & pepper. (I add 1/8 teaspoon salt and a tiny pinch of pepper.) Whisk until smooth and refrigerate until ready to use.

SAUTE: Add the olive oil to a medium-sized pot and heat to high. Add in the diced pepper and onion, stirring occasionally until tender, about 5 minutes. Add in the jalapeño and garlic. Cook, stirring frequently, for 1 minute. Add in all the seasonings. Stir until fragrant, about 1 minute. Reduce heat to low.

FINISH FILLING: Add in the diced sweet potatoes, black beans, and lime juice. Stir to heat through (1-2 minutes), and then remove from heat. Meanwhile, grate the cheese.

FILL THE EGG ROLLS: Set out the egg roll wrappers on a clean surface to look like a diamond facing you. Smooth 1 heaping teaspoon sour cream on the bottom third of the wrapper. Top with 3 packed tablespoons of the filling. Add 2 packed tablespoons of cheese on top. Dip your finger into a small bowl of water and run your wet finger along the edges of the egg wrapper. Fold the bottom up over the filling. Then fold the left and right corners in to the center (like an envelope). Tightly pressing the filling, roll the egg roll like a cylinder. (If any of the filling is exposed, it will leak out in the air fryer.) Repeat with the remaining filling and egg wrappers until all are filled. (We typically get 13 total egg rolls, using up all the filling and cheese.)

AIR FRY: Spray all sides of all the egg rolls with olive oil cooking spray. Rub the spray evenly on all sides of the egg rolls. Layer egg rolls in the air fryer so none are touching. (If your air fryer doesn't have shelves, just put as many as you can fit in the basket so none are overlapping) Bake at 370 degrees F for 5 minutes. Flip and bake for another 5 minutes. Flip once more and bake another 2-3 minutes or until egg rolls are crispy and golden brown. (Air fryers cook differently, so watch closely at the end and remove once the egg rolls are crispy all over.) Remove and let cool slightly before digging in. Serve with dipping sauce and avocados if desired. Enjoy!
Recipe Notes
Note 1: You can also use leftovers from these homemade Black Beans! 
Nutrition information does not include the optional avocado slices.
Nutrition Facts
Calories: 870kcal | Carbohydrates: 80g | Protein: 31g | Fat: 48g | Saturated Fat: 17g | Trans Fat: 1g | Cholesterol: 80mg | Sodium: 927mg | Potassium: 1125mg | Fiber: 17g | Sugar: 9g | Vitamin A: 19898IU | Vitamin C: 53mg | Calcium: 531mg | Iron: 6mg
We do our best to provide accurate nutritional analysis for our recipes. Our nutritional data is calculated using a third-party algorithm and may vary, based on individual cooking styles, measurements, and ingredient sizes. Please use this information for comparison purposes and consult a health professional for nutrition guidance as needed.