Delicious Chocolate Chip Pancakes are made with miniature chocolate chips and buttermilk. These pancakes have a crisp exterior with a soft, interior.
We love Chocolate Chip Pancakes for breakfast! To make an entire breakfast spread, serve them alongside this Egg Skillet or these One-Pan Breakfast Potatoes and Bacon.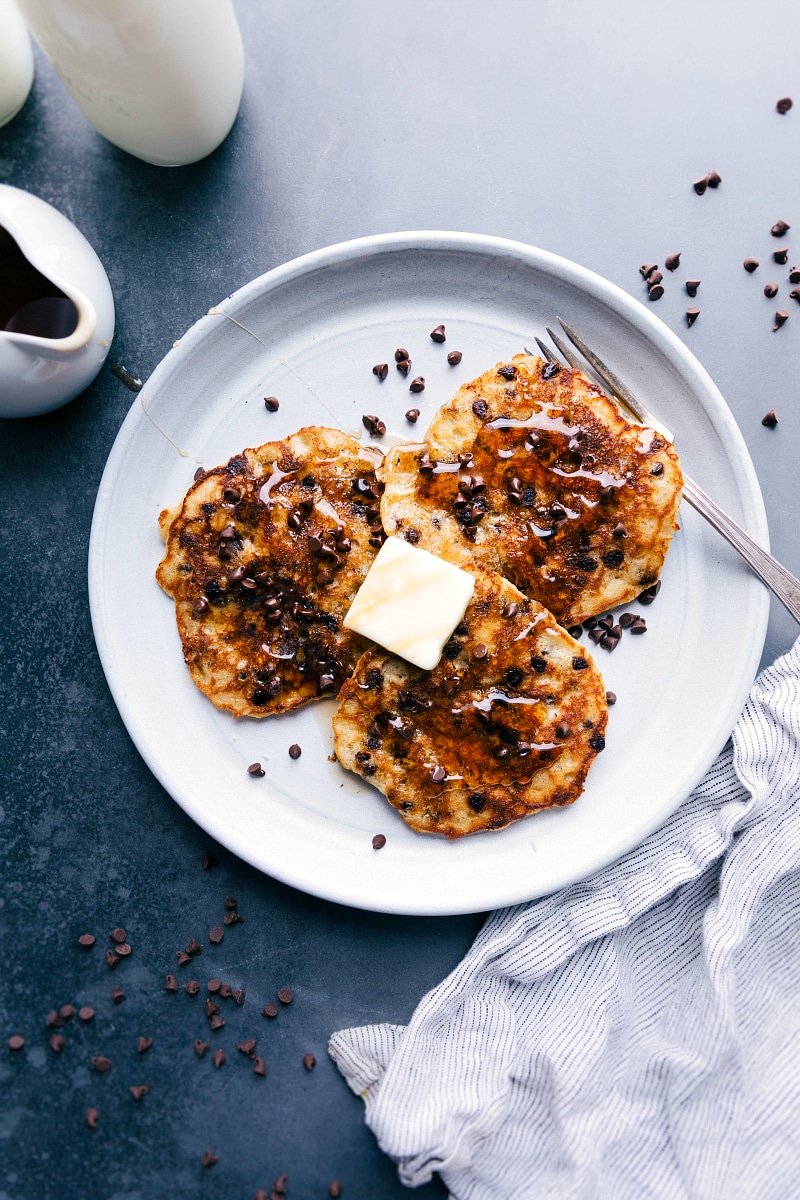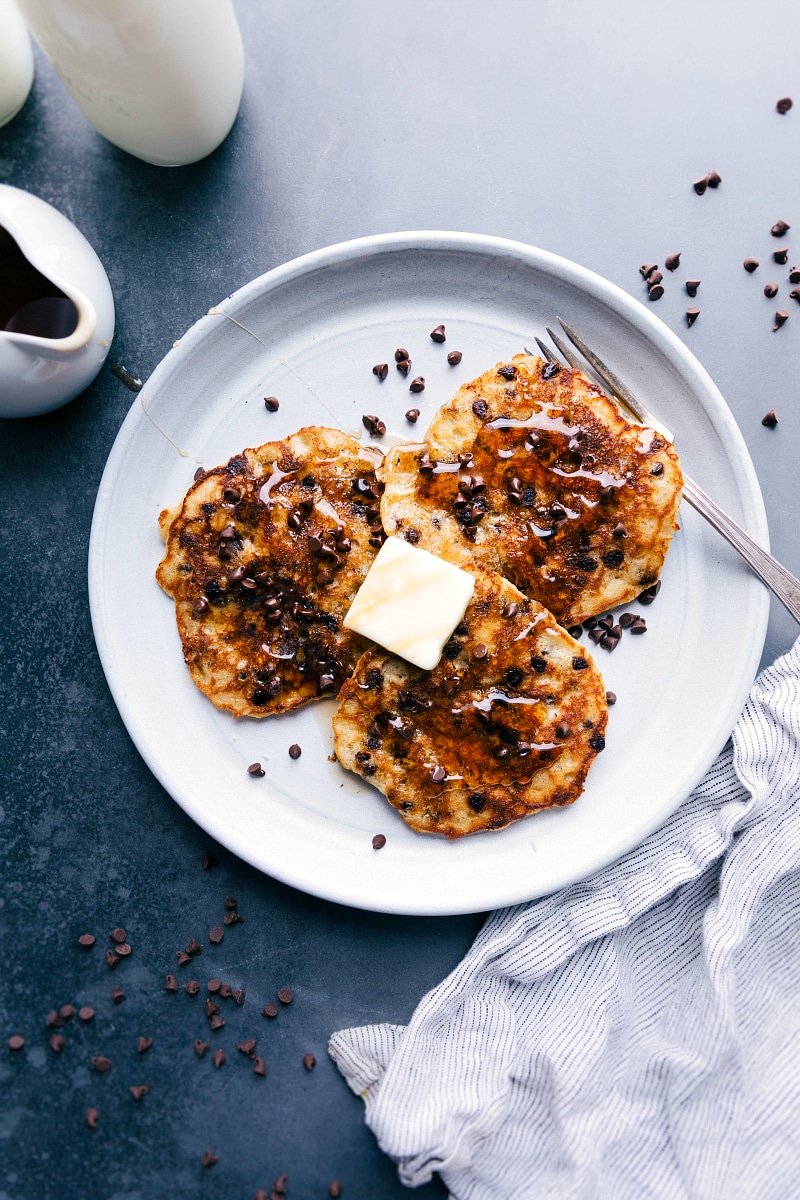 Chocolate Chip Pancakes
Pancakes, Waffles, and French Toast are all favorites at my home — we make at least one of them every Saturday for breakfast. My kiddos go crazy for Saturday morning breakfast! 
While we typically stick these plain Homemade Pancakes, it's fun to change up the flavors — sometimes adding overripe bananas (like in these Banana Pancakes) or fresh, juicy blueberries (like in these Blueberry Pancakes).
Today though, we're going for a total breakfast treat — Chocolate Chip Pancakes! These pancakes are sweet, light, fluffy, and completely crave-worthy. Add a splash of good maple syrup for the perfect finishing touch!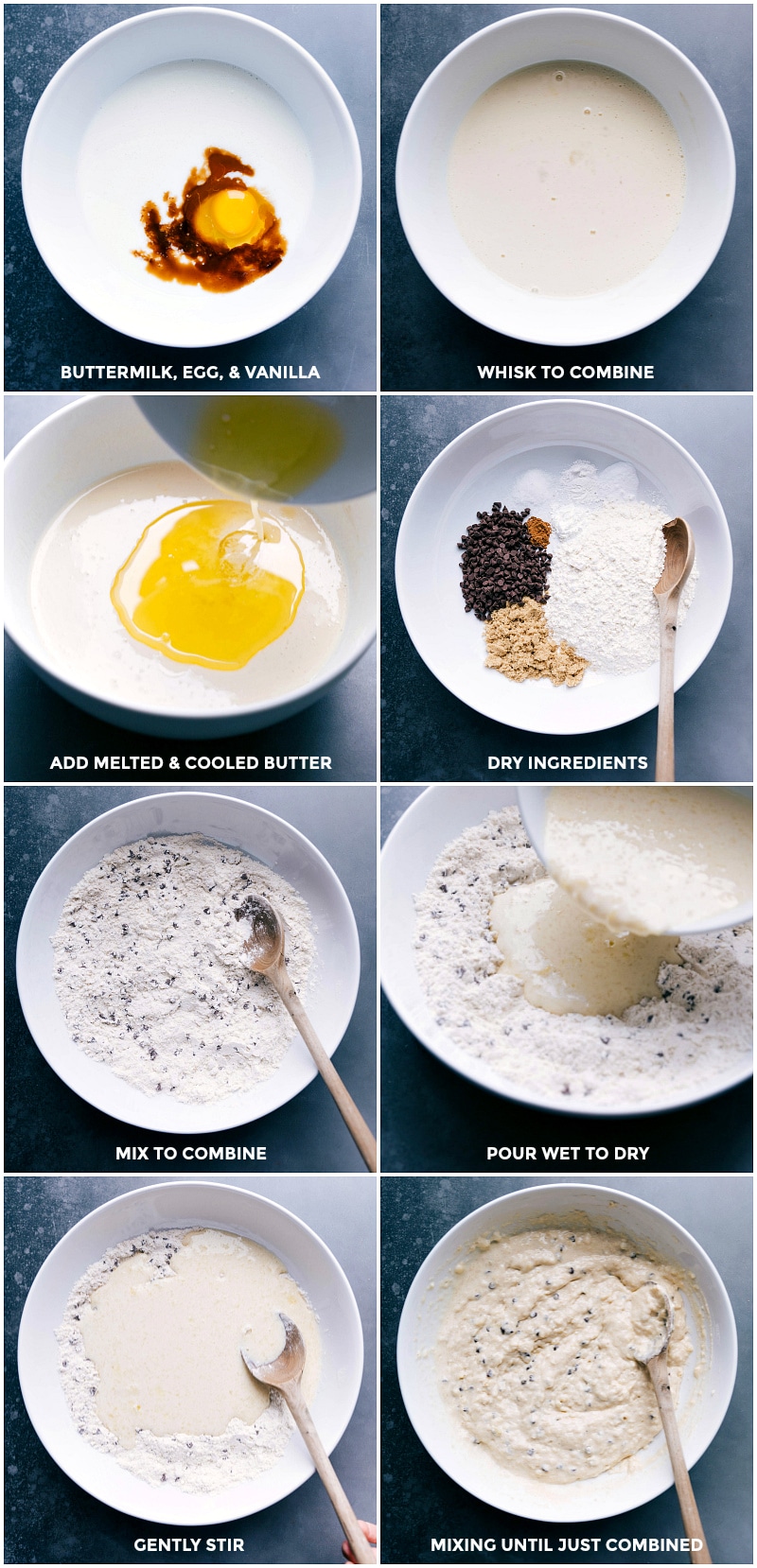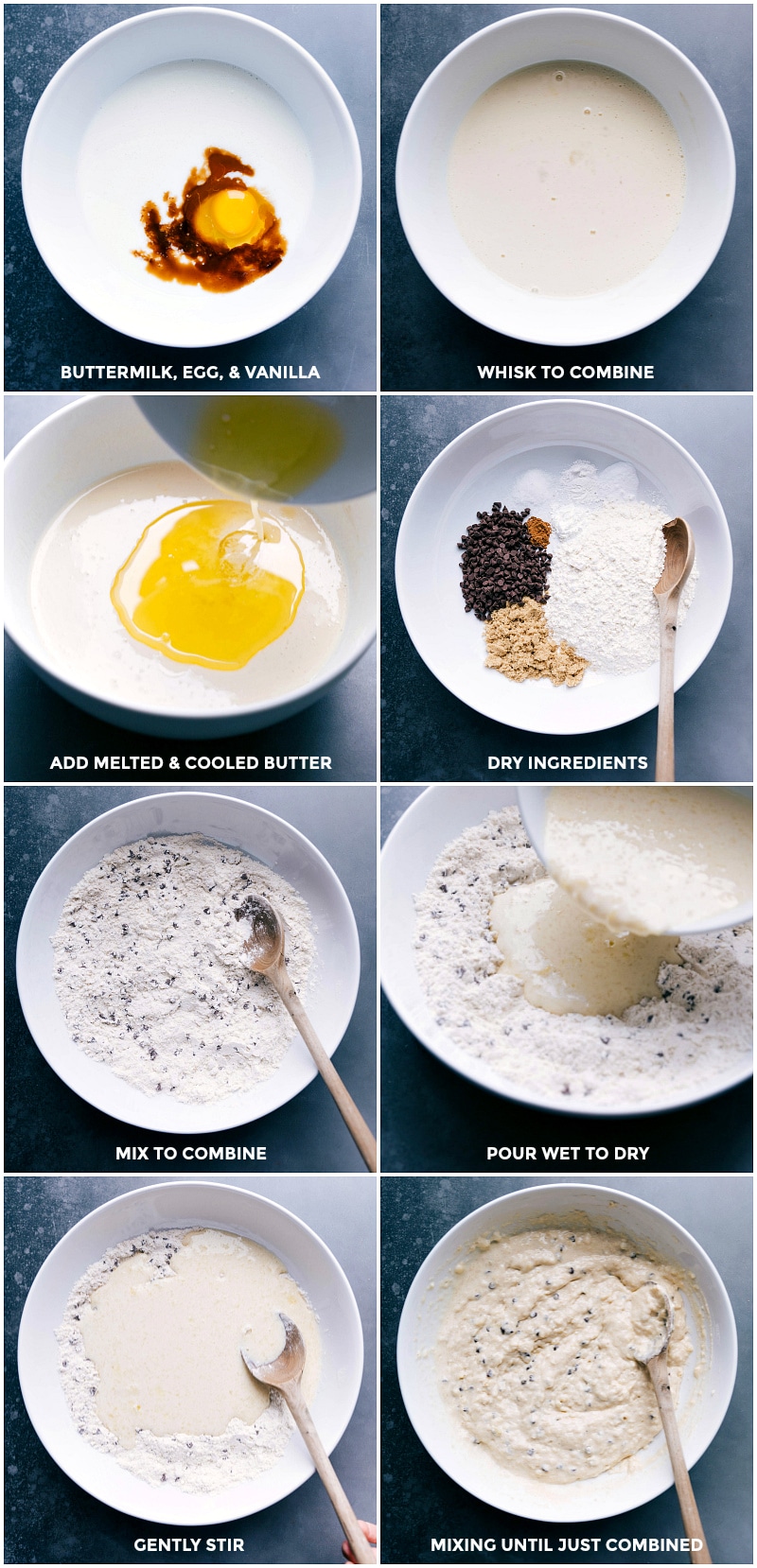 Make your own Buttermilk
I'm a huge fan of buttermilk in pancakes; it gives them a wonderful lift, texture, and flavor. 
If you don't have buttermilk, you can still make Chocolate Chip Pancakes! They do have slightly less lift with DIY buttermilk as opposed to regular, but it still works great (I've tested both). Here are the instructions:
Pour 1 tablespoon of distilled white vinegar or lemon juice into the bottom of your liquid measuring cup. Fill up the rest with whole milk and give it a quick stir. Let it sit for 5-10 minutes before adding it to the recipe. This DIY buttermilk procedure can be increased or decreased proportionately.
For this pancake recipe, I add 1 tablespoon and 1 teaspoon vinegar to a liquid measuring cup and add milk until reaching the 1 and 1/4 cup line.
Toppings for Chocolate Chip Pancakes
The best thing about making your own pancakes–chocolate chip or otherwise– is that you get to pick exactly how you want them topped! Below are some ideas:
A pat of butter
A drizzle of peanut butter, almond butter, cashew butter, etc.
Pure maple syrup
Buttermilk Syrup (great way to use up leftover buttermilk)
Fresh berries (blueberries, raspberries, blackberries, etc.)
Toasted coconut
Jam (any flavor would be delicious!)
A sprinkle of powdered sugar
A drizzle of Nutella® (or similar chocolate/hazelnut spread)
I hope you enjoy these syrup-drenched, chocolate-studded, absolutely perfect pancakes!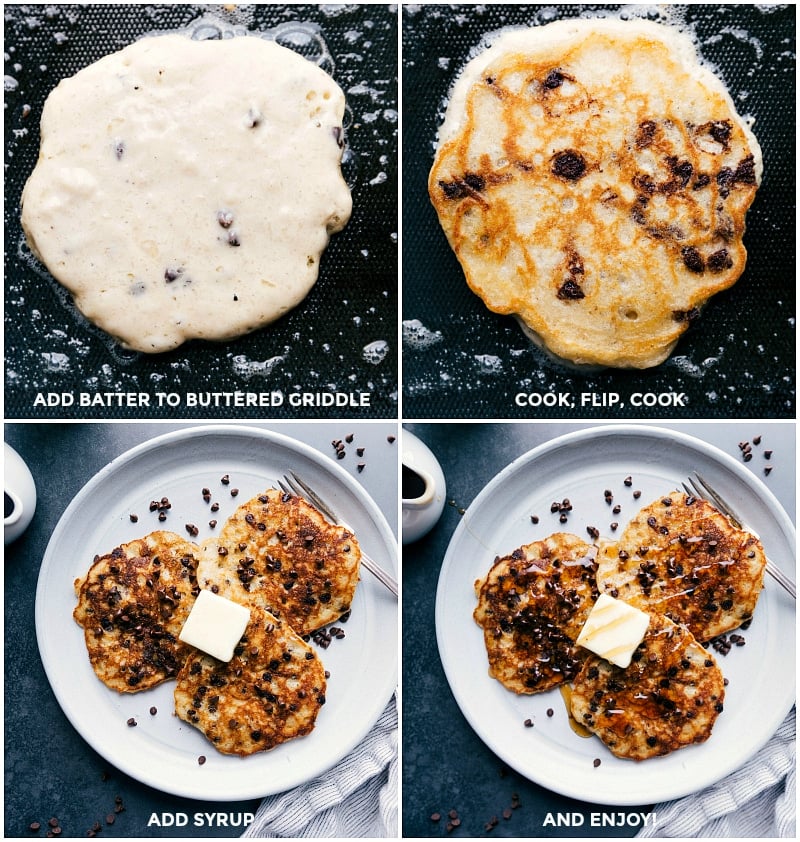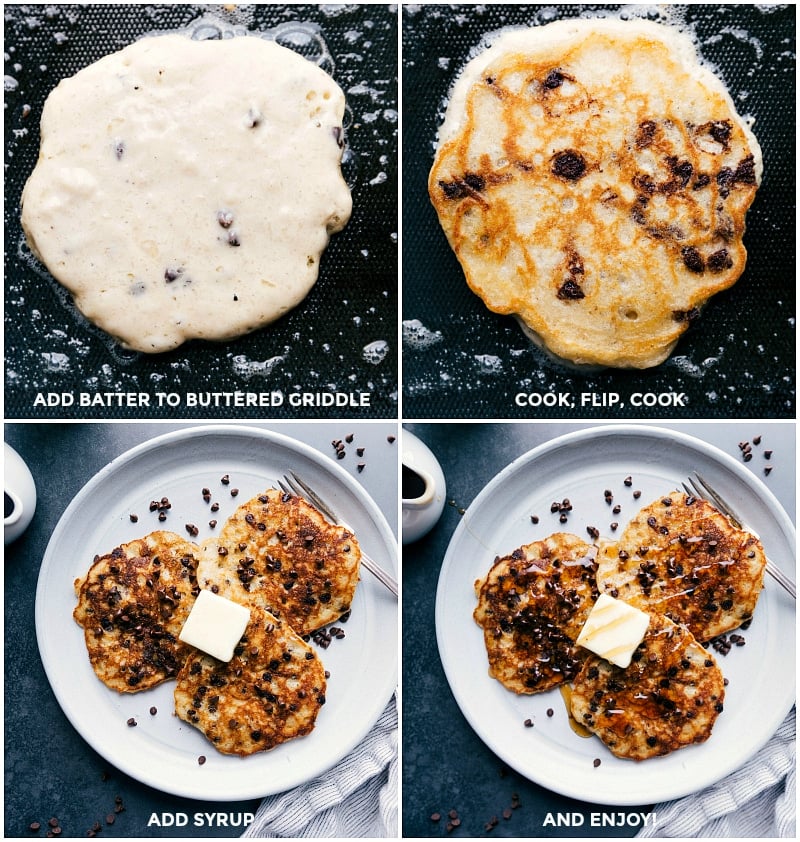 Tips for the Best Chocolate Chip Pancakes
QUICK TIP
 My number #1 tip: Do NOT overmix the batter. Too much stirring is going to start the gluten development in the batter and make the pancakes flat and tough (not light and fluffy). As soon as you don't see flour streaks, stop mixing. Remember, lumps in the batter are a good thing and they'll be eliminated as the batter rests.
Let the batter stand at room temperature for about 5-10 minutes before adding to the griddle. This gives the flour a chance to absorb the liquid and allows some of those stubborn lumps (that you didn't overmix!) to take care of themselves.
Pay attention to the temperature: Really pay attention while you cook the pancakes. If they're browning too quickly, turn the heat down a bit and cool the pan for a minute. Sticking a lot? Add a bit more butter to the pan. As long as you keep monitoring and adjusting the temperature as needed, your pancakes will turn out fine.
Invest in a griddle: If you make pancakes often, and have space, I highly recommend an electric skillet or griddle; we use ours a couple of times a week! A griddle makes pancake-making so much easier!
Before your pancake batter hits the hot pan, run a cold stick of butter on the pan to grease it. This gives the pancakes an evenly distributed layer of fat to cook in. 

I like to hold the stick of butter with tongs to keep the heat away from my fingertips. Use the tongs as an extension of your hand, and run the butter across your skillet or griddle.

Use your favorite type of chocolate. We like miniature semi-sweet chocolate chips best in these pancakes — they disperse more evenly which means there's chocolate in every bite! That said, you can use whatever chocolate chips you have on hand or like best — dark, milk, semi-sweet, or even white chocolate!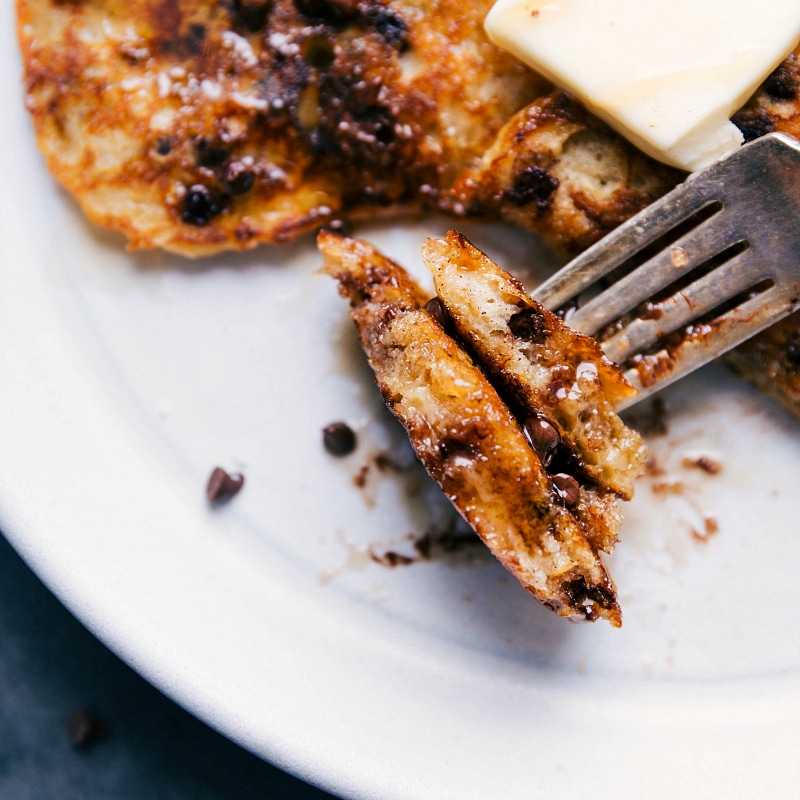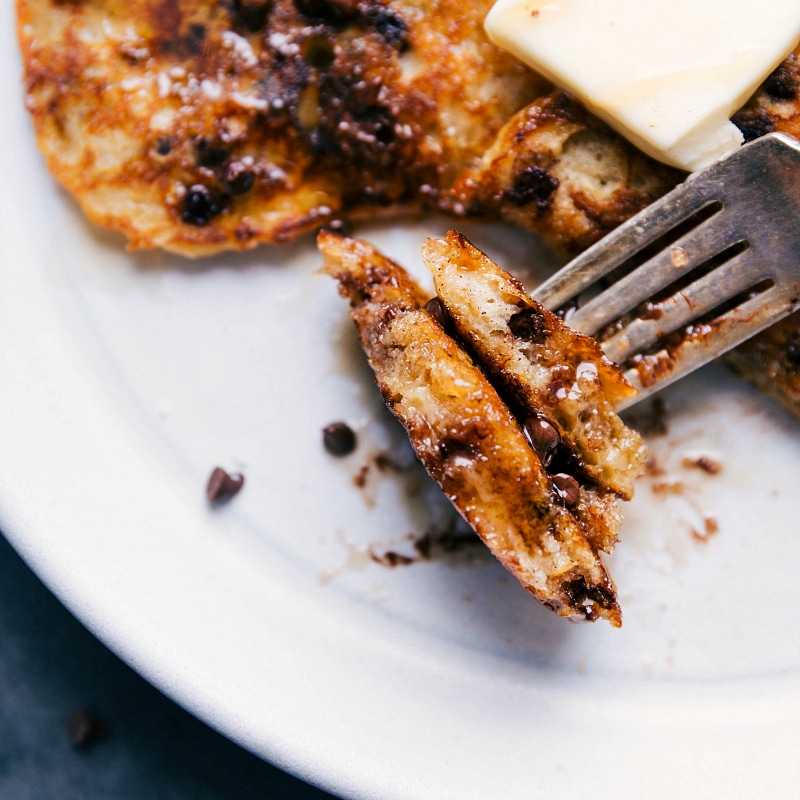 Chocolate Chip Pancakes FAQs
1How do you keep the chocolate chips from burning in the pancakes?
I've found using miniature chocolate chips solves this problem!
That said, regular chocolate chips still work, but you may want to add the chocolate chips after the batter is on the griddle. Once the pancake has puffed up a bit, press chocolate chips evenly into the pancake. Cook and then flip. Once there's just the slightest bit of batter over the chocolate chips, it will seal them in and you can rest assured that they won't burn.
If chocolate chips are popping out as you're cooking the pancakes, press them in gently with the tines of a fork or with the back of the spatula.
And one more tip: If the chocolate is burning, the heat on the griddle may be too high.
2What does milk do in pancakes?
Milk (or buttermilk) in pancakes is the main liquid structure. It is what dissolves the dry ingredients.
Milk makes the batter smooth and will also contribute to the lovely golden color of the cooked pancakes.
3Why aren't my pancakes fluffy?
There are a few contributing factors:
Using old ingredients (old butter, flour, etc.)
Overmixing the batter
Substituting low-fat or different ingredients
For the best results, read the recipe carefully and follow the directions exactly.
4How do you make Chocolate Chip Pancakes from scratch?
There is a more detailed step-by-step process included in the recipe card below, but here is a quick overview of the process.
Start by mixing together wet ingredients.
In a separate bowl, mix together dry ingredients.
Combine the two, being careful to not overmix.
Add dollops of the batter to a heated and buttered griddle.
Cook, flip, and finish cooking.
Keep cooked pancakes hot while cooking the rest by storing them in a warm oven.
Serve and enjoy!
More easy breakfast recipes
Chocolate Chip Pancakes
Delicious Chocolate Chip Pancakes are made with miniature chocolate chips and buttermilk. These pancakes have a crisp exterior with a soft and chewy interior.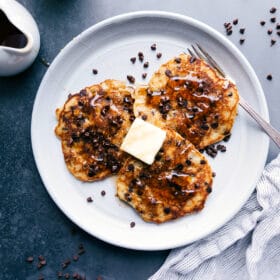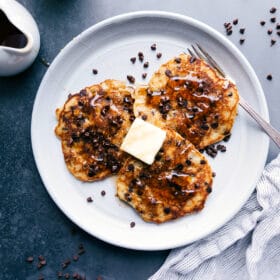 Chocolate Chip Pancakes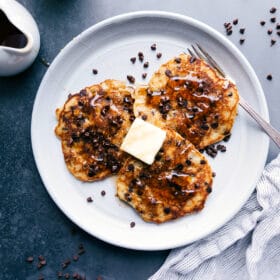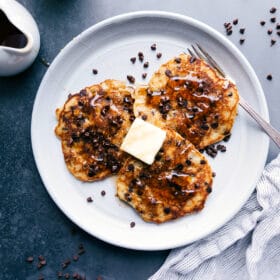 Delicious Chocolate Chip Pancakes are made with miniature chocolate chips and buttermilk. These pancakes have a crisp exterior with a soft and chewy interior.
Ingredients
8

tablespoons (113g)

unsalted butter,

divided

1-1/4

cup (300g)

buttermilk

1

large egg

1

teaspoon

pure vanilla extract

1-1/4

cups (150g)

white, all-purpose flour

2

tablespoons

light brown sugar,

lightly packed

1/4

teaspoon

ground cinnamon,

optional

3/4

teaspoon

fine sea salt

1

teaspoon

cornstarch

1/2

teaspoon

baking powder

1/2

teaspoon

baking soda

1/2

cup (86g)

miniature chocolate chips,

plus more for topping if desired
Instructions
OVEN/PREP: Preheat the oven to 200 degrees F and prepare a large baking sheet by setting a cooling rack on top of the tray. Place both in the oven. Start by melting 5 tablespoons of butter. Once completely melted, set aside to get back to room temperature.

WET INGREDIENTS: In a medium-sized bowl, whisk together the buttermilk, egg, and vanilla. Set aside and work on the dry ingredients.

DRY INGREDIENTS: In a very large bowl, whisk together the flour, sugar, cinnamon, salt, cornstarch, baking powder, baking soda, and miniature chocolate chips. Make a well in the center of the dry ingredients and set aside.

FINISH WET INGREDIENTS: Drizzle melted and cooled to room temperature butter into the wet ingredients. Whisk until smooth.

COMBINE: Pour wet ingredients into the well of the dry ingredients and mix until JUST combined. Do not overmix; just mix until you don't see streaks of flour — the batter should be a bit lumpy. Let the mix stand for 5-10 minutes.

COOK: Heat a large skillet or griddle over medium-high heat (~300 degrees F). When hot, run the cold stick of the remaining 3 tablespoons butter across the skillet/griddle. (I like to hold butter with tongs to keep the heat away from my fingers.) Lower the heat to medium-low and use a 1/3 cup measuring cup to scoop and drop the pancake batter onto the skillet or griddle.

COOK CONT.: The batter should spread into a pancake about 3 inches wide. Cook until bubbles are forming on the edges of the pancakes and then use a thin spatula to gently lift one side and look underneath. If the pancake is golden brown, flip and cook on the other side for 1 and 1/2 to 2 and 1/2 minutes, or until the bottom of the pancake is golden brown and the pancake is cooked through. If the pancake or butter starts to burn, lower the heat.

REPEAT: As soon as you take a pancake off the skillet or griddle, place it on the wire rack in the prepared sheet pan. (The rack keeps the pancakes from getting soggy underneath!) Place the pan in the oven as you continue to cook more pancakes. Wipe down the skillet/griddle with a paper towel. Rub the butter across the skillet again and repeat until the batter is used up.

SERVE: Serve pancakes as soon as possible. Topped with an extra pat of butter (optional) and your favorite syrup — maple syrup or some of the options listed in Note 1.
Recipe Notes
Note 1: Here are some ideas for topping your pancakes: A pat of butter, drizzle of peanut butter, almond butter, cashew butter, etc., pure maple syrup, this vanilla sauce, this buttermilk syrup, fresh whipped cream, fresh berries, toasted coconut, jam, a sprinkle of powdered sugar, or a drizzle of Nutella.
Nutrition Facts
Serving: 1serving | Calories: 156kcal | Carbohydrates: 13g | Protein: 2g | Fat: 11g | Saturated Fat: 7g | Trans Fat: 1g | Cholesterol: 37mg | Sodium: 227mg | Potassium: 23mg | Fiber: 1g | Sugar: 8g | Vitamin A: 296IU | Vitamin C: 1mg | Calcium: 34mg | Iron: 1mg
We do our best to provide accurate nutritional analysis for our recipes. Our nutritional data is calculated using a third-party algorithm and may vary, based on individual cooking styles, measurements, and ingredient sizes. Please use this information for comparison purposes and consult a health professional for nutrition guidance as needed.