These saucy Chicken Ramen Noodles with broccoli and a simple stir-fry sauce makes an easy weeknight meal the whole family will be obsessed with! 
Try some of our other easy ramen recipes — this Ground Beef Ramen, these Egg Roll Noodles, or this veggie Chicken Ramen.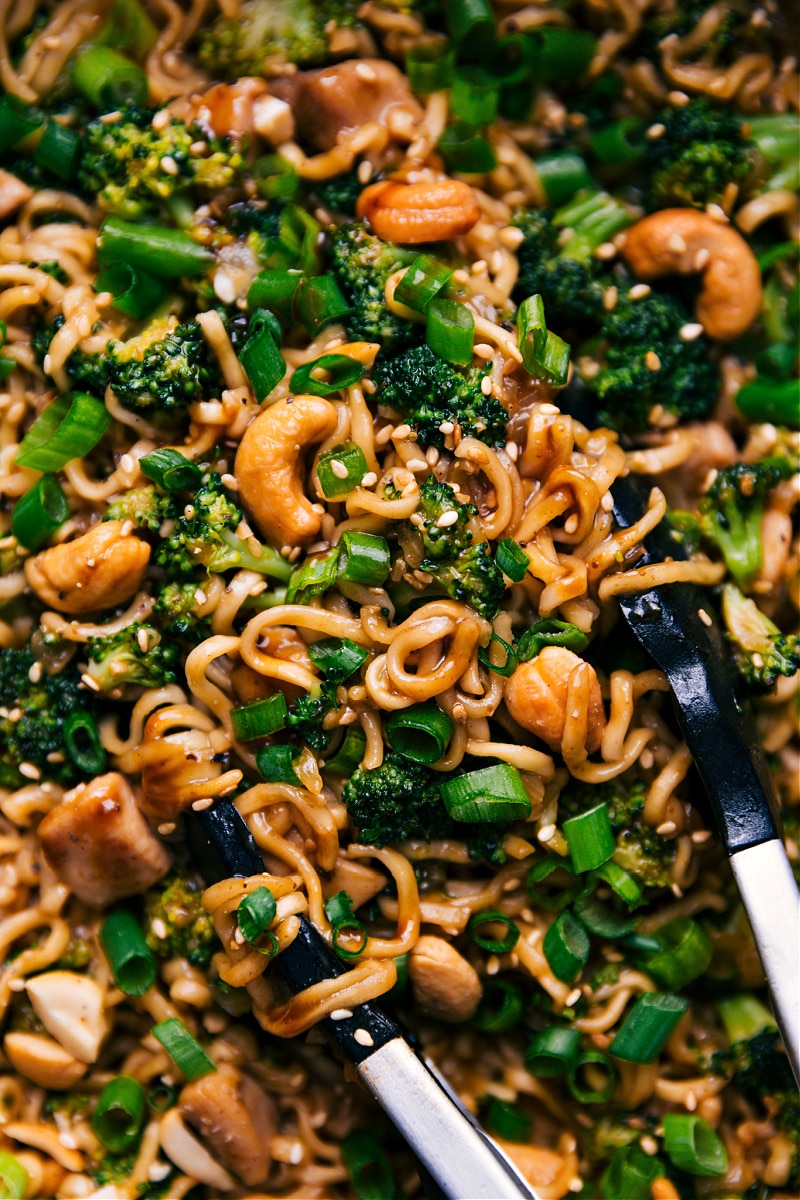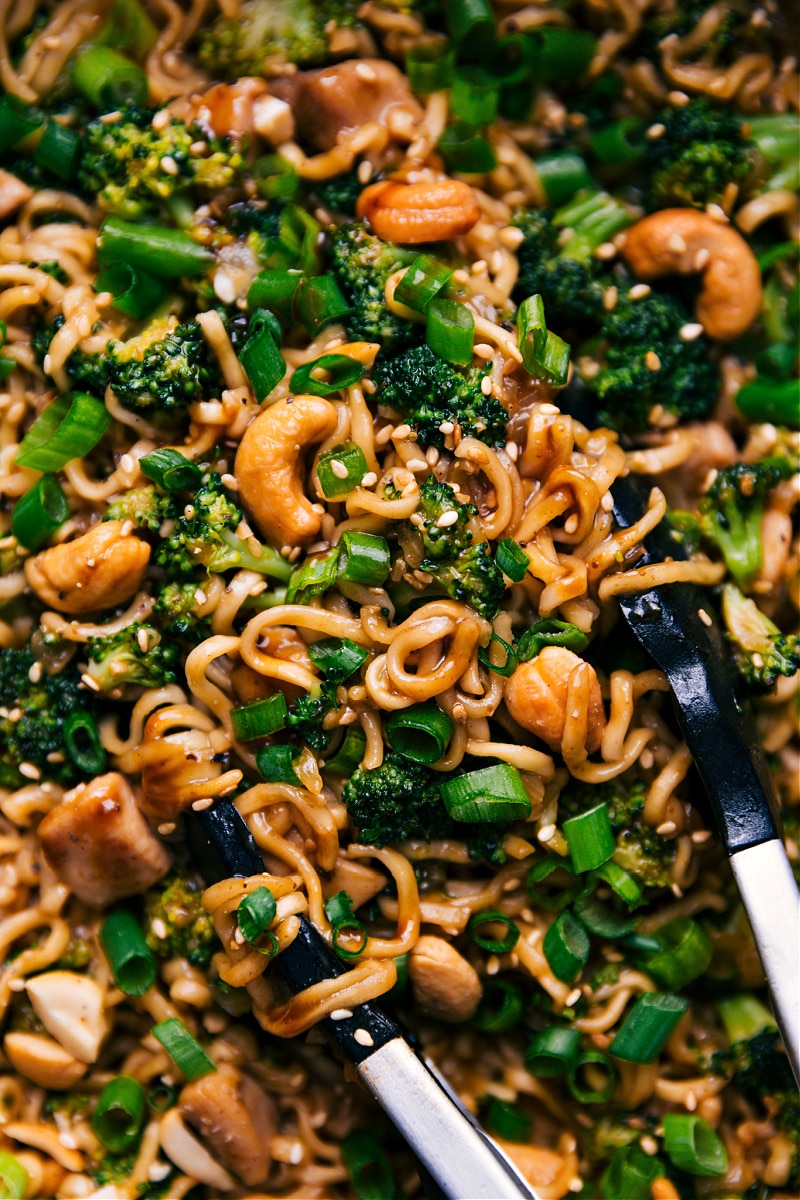 Chicken Ramen Noodles
This Beef and Broccoli Ramen has been a reader favorite for years ever since it was published! So I decided it would be fun to make a twist on that recipe with chicken and broccoli, instead of beef. And coming from my chicken-obsessed boys, they declared this "the best meal ever."
I'll admit they'll claim meals as the "best ever" rather frequently, but these noodles were slurped up in record time nonetheless!
Chicken Ramen Noodles are easy to make, especially with some recipe shortcuts I'll share below.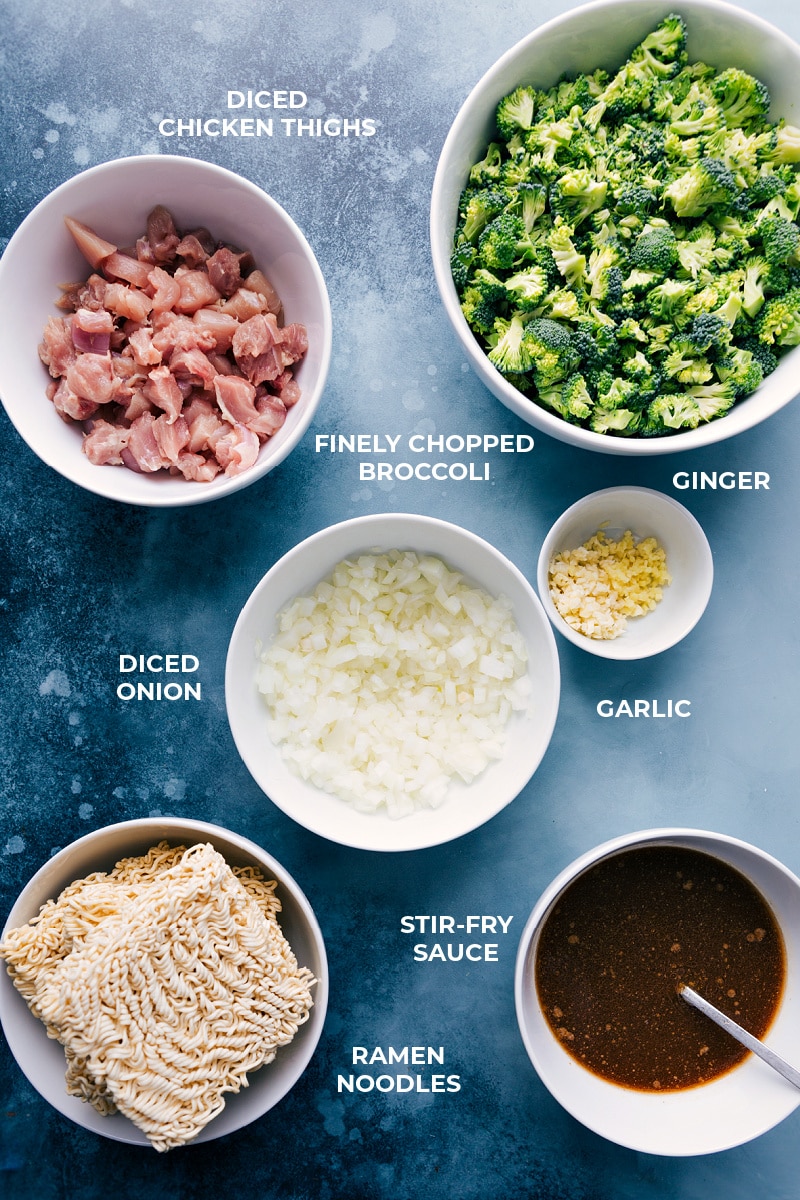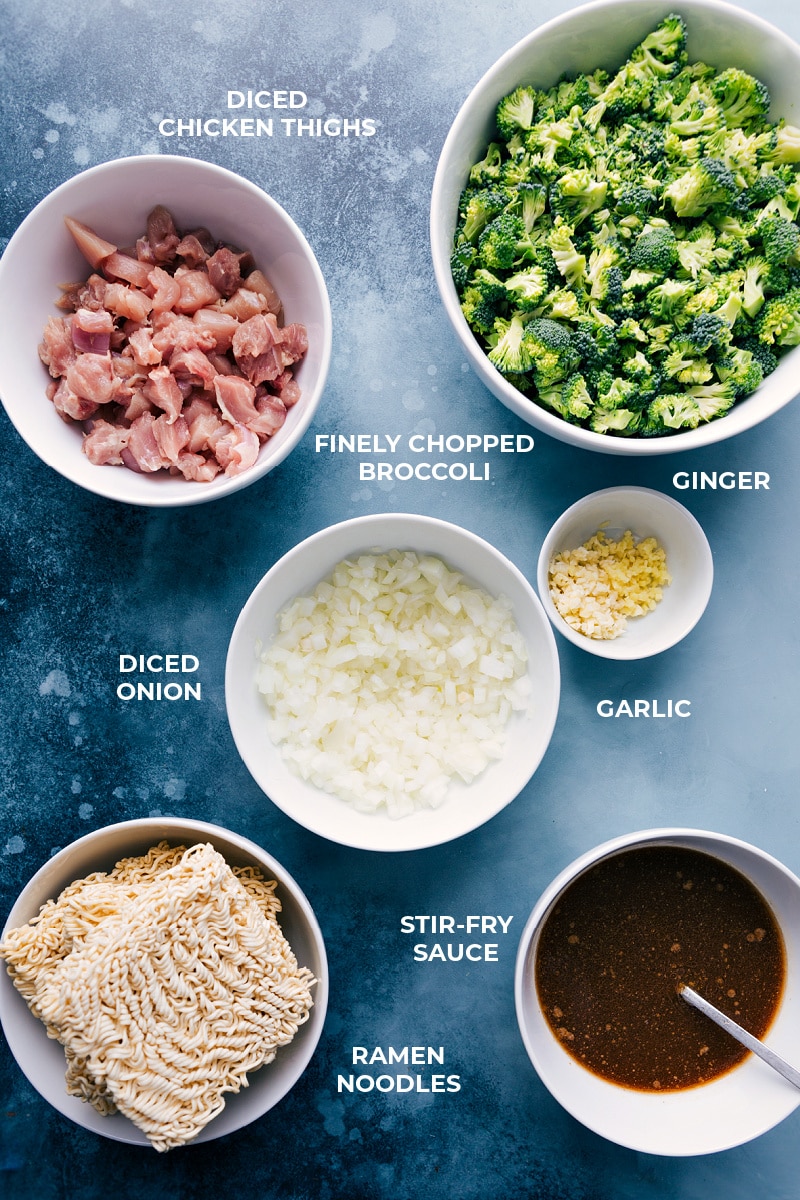 Shortcut Prep Ideas
Chicken Ramen Noodles are fairly quick to make, and here are some ideas to shorten the prep even more.
Yellow onion: A lot of grocery stores have pre-diced onions in the produce section of the grocery store you can use for this recipe. Otherwise, frozen diced onions work too. Cook frozen onions just until water is evaporated. Another alternative is using a food processor to quickly chop the onion.
Garlic: Use jarred, minced garlic for quicker prep.
Ginger: Again, speed things along with ginger paste. If you don't have fresh ginger or ginger paste, add 1-4/ to 1/2 teaspoon ground ginger (depending on desired flavor intensity) instead.
Broccoli: A lot of grocery stores have pre-chopped broccoli in the produce section of the store. You'll still need to chop these down a bit, but this does save a bit of time.
Rotisserie chicken: If you'd like to skip cooking raw chicken, add in diced rotisserie chicken with the sauce — quickly warm it through as the sauce thickens. Be careful to not cook it for too long, as it will dry out.
Make the sauce ahead of time: This isn't really a shortcut per se, but if you whip up the sauce ahead of time and keep it in the fridge, these Chicken Ramen Noodles come together that much quicker at dinner time.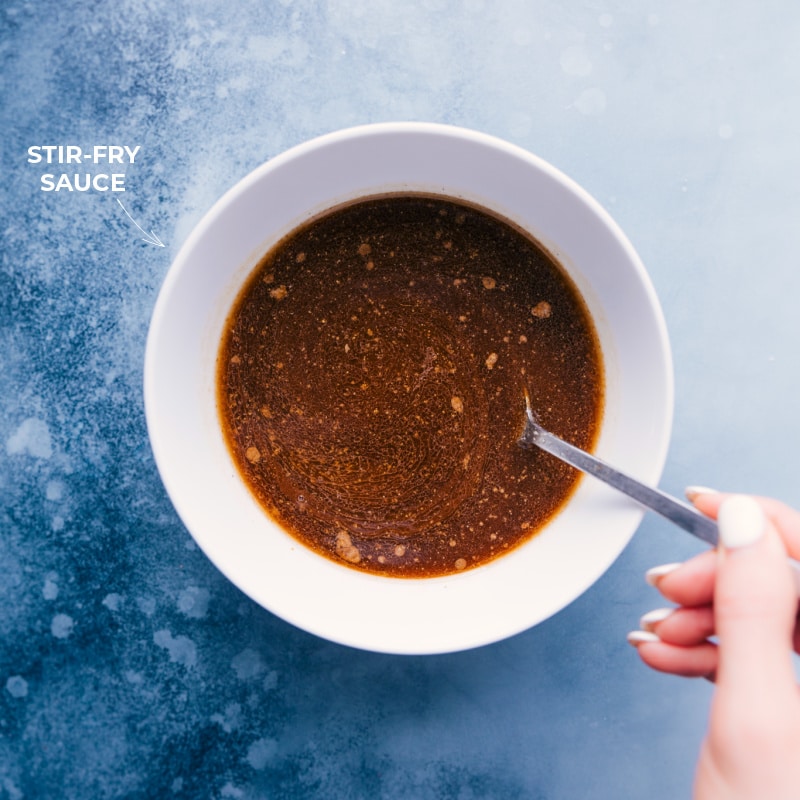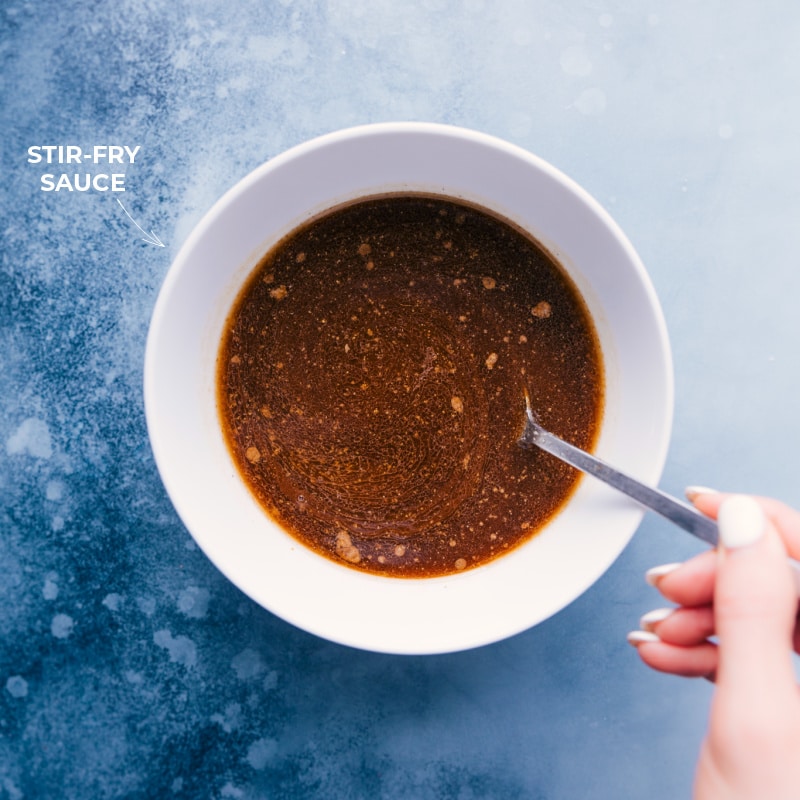 Soy sauce: Use reduced or low-sodium soy sauce so this dish isn't too salty. After all, you can always add some salt at the end, but you can't take it away.
Chicken broth or stock: Again, I recommend low-sodium products so you can control the amount of salt in this dish. 
Corn starch: This helps thicken the sauce. Here is a list of substitutes if needed.
Sesame oil: For a great authentic flavor, sesame oil really delivers! (This oil is typically found with the Asian ingredients area, rather than with the other oils in the grocery store.) We love the flavor of toasted sesame oil best in this meal.
Rice vinegar: This balances the sauce and adds a subtle tang. If you see a label saying rice wine vinegar, it's the same thing.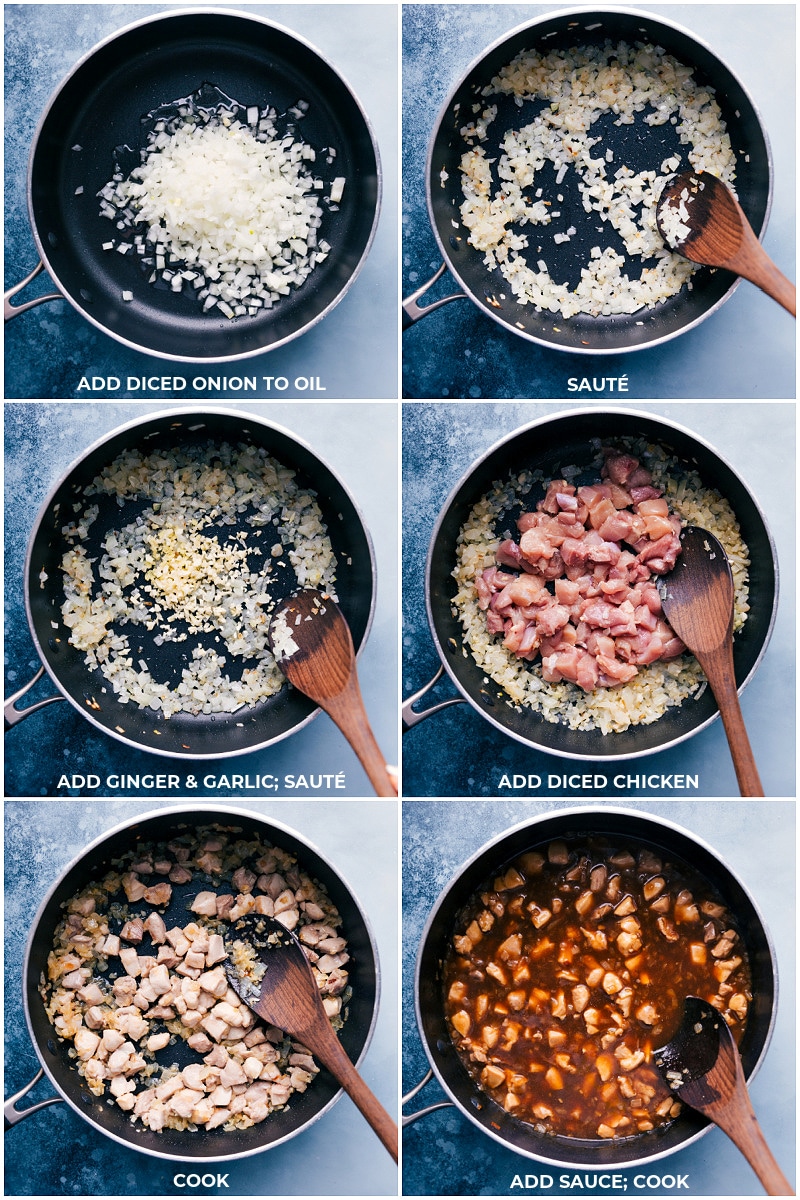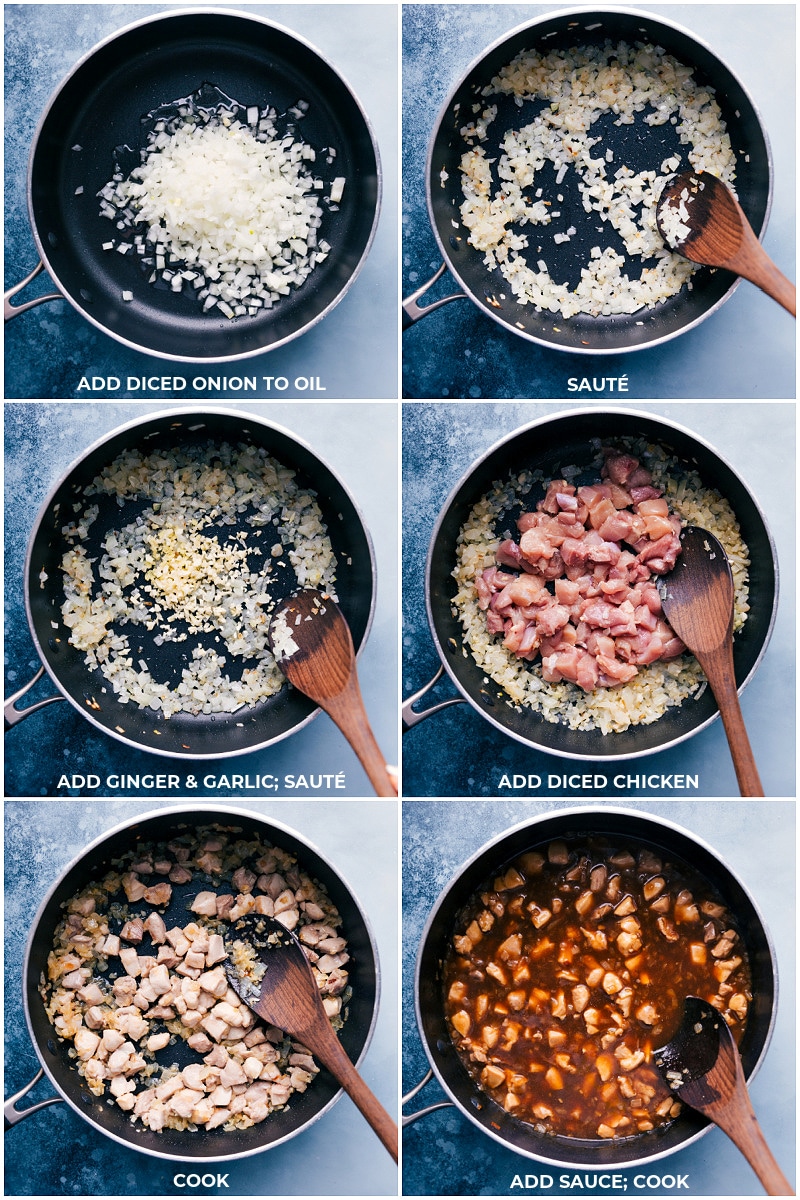 Sauce Ingredients, Continued
Honey ensures the dish is not too spicy and adds a nice subtle sweetness.
Hoisin sauce is thick and fragrant with a sweet and salty taste; it's another "secret" to the amazing flavor in this dish.
Ground white pepper is a common spice, found among other spices in the grocery store. 
Oyster sauce gives this dish a restaurant-quality feel and adds the perfect umami flavor.
Sriracha® sauce adds heat and flavor to these Chicken Ramen Noodles. You can of course reduce (or even omit entirely) this if you're not a fan of heat. And alternatively, add more or drizzle extra on your bowl if you love the burn!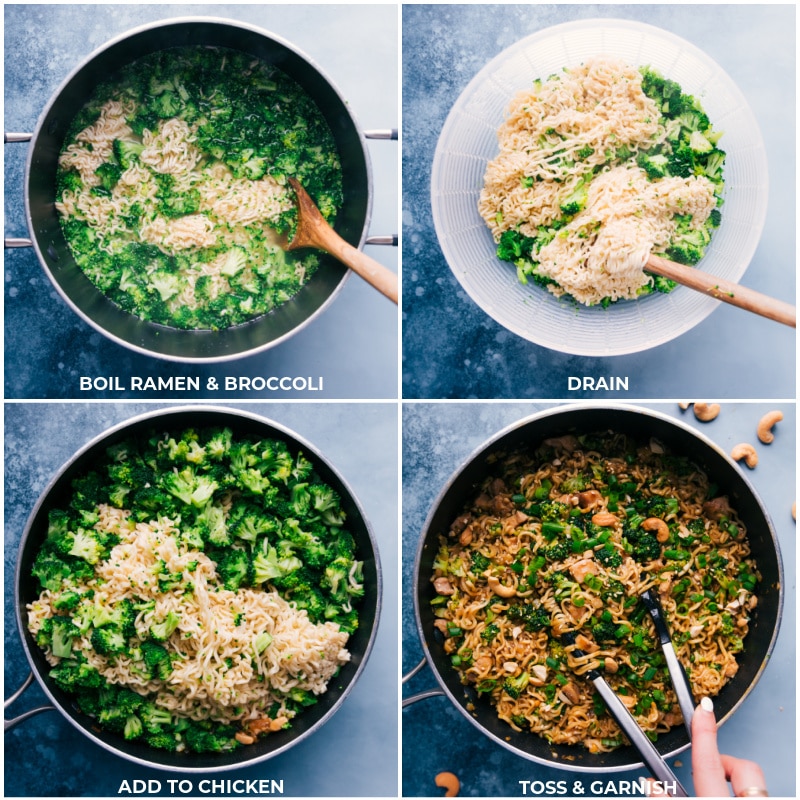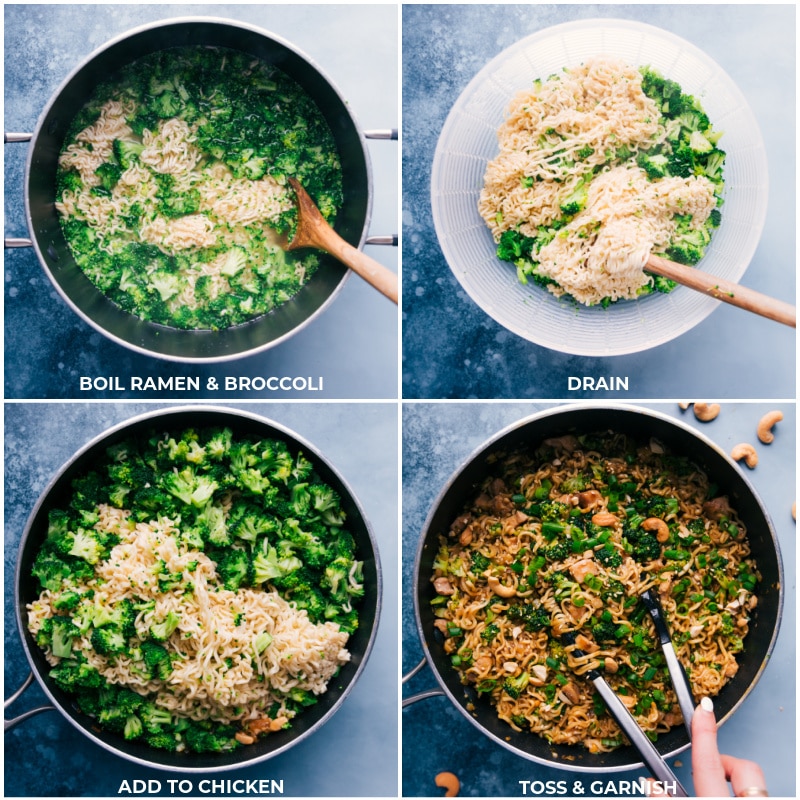 Chicken Ramen Noodle Toppings
This ramen is delicious right out of the skillet, but here are some of our favorite garnishes. Add as many or few as you'd like; cashews and green onions are our "must-have" toppings.
Sesame oil is a finishing oil that is great to drizzle on at the end. Even though there is some in the sauce, we like to add a little to individual dishes as well.
Sriracha® sauce adds some heat to individual plates for those that like things a bit spicier.
Green onions add a bright, crisp, and fresh aspect to these Chicken Ramen Noodles.
Toasted sesame seeds add a subtly sweet taste and aroma with a nutty flavor.
Cashews add a great crunch and finishing touch of seasoning. We love dry-roasted and lightly salted cashews best.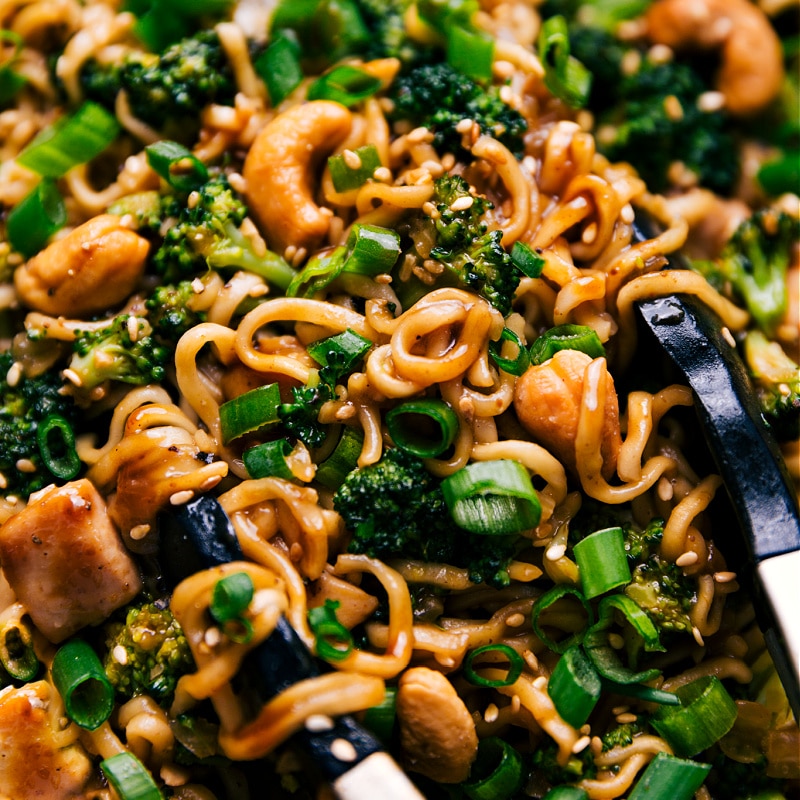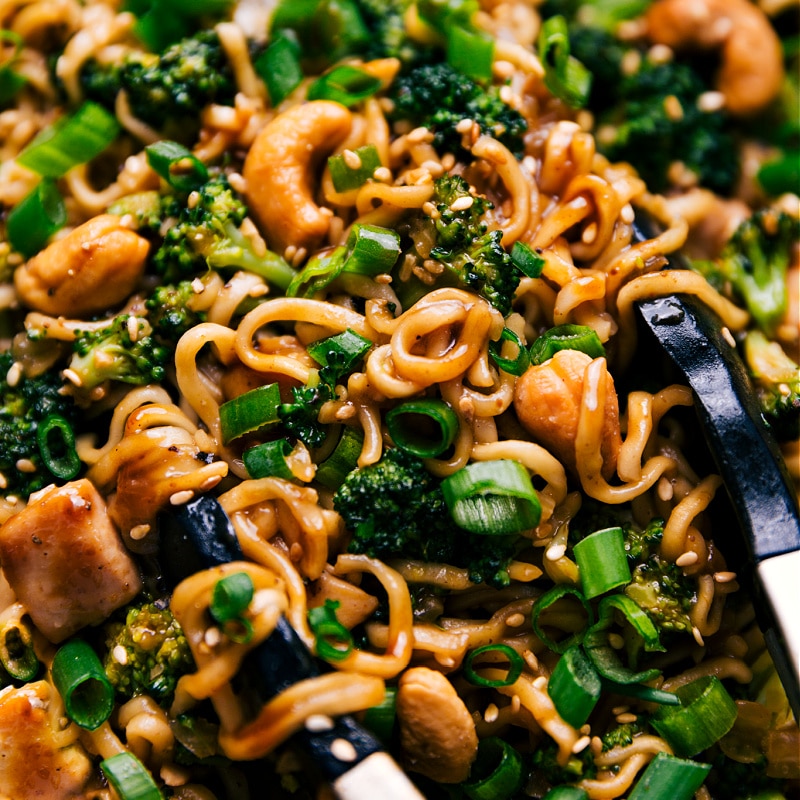 More saucy Asian-inspired meals
Chicken Ramen Noodles
These saucy Chicken Ramen Noodles with broccoli and a simple stir-fry sauce make an easy weeknight meal the whole family will be obsessed with!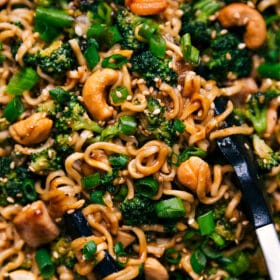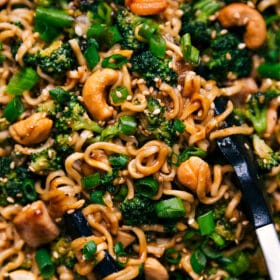 Chicken Ramen Noodles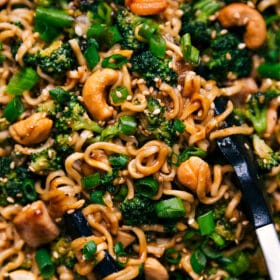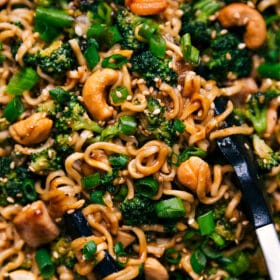 These saucy Chicken Ramen Noodles with broccoli and a simple stir-fry sauce make an easy weeknight meal the whole family will be obsessed with! 
Ingredients
2

tablespoons

vegetable oil

1

cup (125g)

diced yellow onion

1

heaping tablespoon

garlic

(~4 cloves)

1

teaspoon

minced ginger

3/4

pound (12 oz.)

diced chicken thighs

5

cups (360g)

diced broccoli

(4-5 small heads)

3

packages (3 oz.; 85g EACH)

ramen (instant) noodles,

seasoning packets discarded
Sauce
2

teaspoons

corn starch

1/4

cup (55g)

lite (low-sodium) soy sauce

Note 1

1/2

cup (125g)

low-sodium chicken broth

2

teaspoons (11g)

toasted sesame oil

1

tablespoon EACH:

rice vinegar, hoisin sauce, honey

2

tablespoons (40g)

oyster sauce

1/2

teaspoon

Sriracha sauce

optional

1/4

teaspoon

ground white pepper

or 1/8 tsp pepper

Optional garnishes: roughly chopped roasted & lightly salted cashews, 3-4 green onions, a few drizzles of sesame oil, toasted sesame seeds, extra Sriracha sauce
Instructions
SAUCE: Use a fork to whisk together the cornstarch and soy sauce in a bowl. Once smooth, add in the remaining sauce ingredients. Whisk until smooth and set aside.

VEGGIE & CHICKEN PREP: Prepare the veggies before you begin cooking, because once you start, it all goes quickly! Dice the onion. Finely mince the ginger and the garlic. Finely chop the broccoli (1/2 inch pieces). Thinly slice the green onions. Trim chicken thighs of excess fat and cut into very small (1/2-inch) bite-sized pieces. Once everything is cut, set a large pot of water to boil.

COOK CHICKEN: Heat 2 tablespoons oil in a large 12-inch skillet (or wok), over medium-high heat. When hot, add the onion. Cook, stirring frequently with a wooden spoon until the onion is turning golden, about 5-7 minutes. Add the garlic and ginger and cook for another 1-2 minutes or until fragrant. Press to the edges of the pan and add the chicken to the center of the pan in a single layer. Cook chicken until browned, but not cooked through, about 4-5 minutes. Incorporate the onion, garlic, and ginger as you cook the chicken.

RAMEN & BROCCOLI: Meanwhile, add the broccoli and ramen to the boiling water. Immediately press all of the ingredients under the water. Don't salt the water here; the sauce will season these ingredients. Cook, stirring occasionally for 90 seconds (See Note 2). Promptly remove and drain. Give everything a quick rinse (10 seconds) in cool water and then shake off excess water.

ADD SAUCE: Give the sauce one more quick stir and pour the sauce into the chicken and cook, stirring near-constantly until the chicken is fully cooked through, the sauce thickens and begins to bubble at the edges, about 2-4 minutes. Reduce the heat to low. Add the drained ramen and broccoli on top and gently toss with tongs to combine and coat the noodles.

GARNISH: Once everything is coated in the sauce, remove the pan from the heat. Add desired garnishes: a sprinkle of roasted and salted cashews, green onions, and sesame seeds. We usually add a drizzle of sesame oil and (for those that like heat) Sriracha to individual serving bowls. Enjoy hot.
Recipe Notes
Note 1: I recommend light soy sauce and low-sodium chicken broth for this recipe. Regular soy sauce and chicken broth made this dish a little too salty for our taste!
Note 2: Any brand of ramen noodles works, but make sure to get the right amount — 9 ounces is perfect for this recipe. Discard (or save for another recipe) the seasoning packets and just use the noodles. Otherwise, the dish will be too salty and the flavor will be off. Whatever ramen noodles used, reduce the cooking time by 90 seconds, since they'll continue to cook when added to the sauce.
Nutrition Facts
Calories: 621kcal | Carbohydrates: 73g | Protein: 34g | Fat: 24g | Saturated Fat: 12g | Trans Fat: 1g | Cholesterol: 81mg | Sodium: 2192mg | Potassium: 1412mg | Fiber: 10g | Sugar: 12g | Vitamin A: 1873IU | Vitamin C: 269mg | Calcium: 189mg | Iron: 6mg